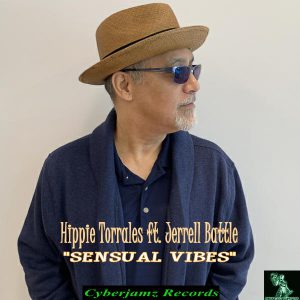 HOT RELEASE ALERT! Hippie Torrales ft. Jerrell Battle – Sensual Vibes – Cyberjamz Records. Target release date April 24,,2020.
The legendary Hippie Torrales comes out of the shadows of our production world and delivers this gorgeous percussion filled afro-Latin jam featuring Jerrell Battle. These guys tore it up with lush xylophone riffs and laced with a badass bass-line, this track will have your dancers mesmerized on the dance floor.
Score one for Hippie Torrales and the beneficiaries of this track which is YOU! the dancer!
Tracklist:
Side A. Sensual Vibes (6:44)
Side A2. Sensual Vibes Reprise (5:30)
Side B. Sensual Vibes Drums (6:44)
Writers: Hippie Torrales & Jerrell Battle
Publisher: Cups And Balls Music (BMI) &
Afflatus Music (ASCAP)
Licensed from: What Is Hip Records 2020