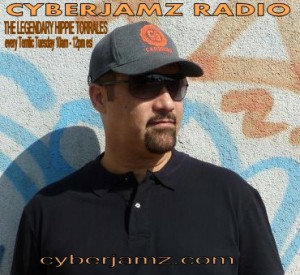 The Legendary Hippie Torrales pres."What is Hip" Tuesday's 10am – 1pm est.This show has been on Cyberjamz Internet Radio for the past 10 + years !!
Biography of Hippie Torrales
Hippie Torrales began DJing at the age of 15. He came into recognition in NJ and NY after opening "Docks" with co-partner Nelson "Butchie" Nieves. After establishing himself as an innovative and creative jock, Hippie was recognized and hired to work at Abe's Disco, which was the forerunner for Club Zanzibar. On Friday, August 29, 1979, opening night at Club Zanzibar – Hippie became the resident DJ and opening jock for the club.During his tenure at Club Zanzibar, Hippie won the prestigious Billboard Disco Forum 8 Award for the best disc jockey in the State of New Jersey – in the same year Larry Levan won the award for New York. It was the last time those Billboard Awards were held. After his resident at Club Zanzibar, Hippie went on to play all the Jersey Shore night clubs. In addition to the club gigs, Hippie worked on music production and remixing. Some of his most notable mixes of that period were Jimmy Ross' – "Fall Into A Trance" and The Clark Sister's – "You Brought The Sunshine", which garnered them a 1 record of New York's local radio station WBLS and also garnered them a Grammy nomination that year for Best Gospel.