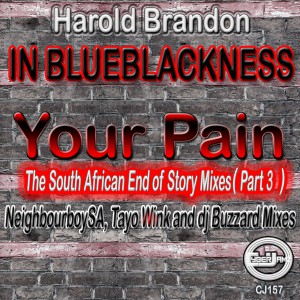 Cat#CJ157
Artist: Harold Brandon-IN BLUEBLACKNESS
Title:Your Pain (The South Africa End of Story Remixes) Pt.3 Mixes by NeighbourboySA,Tayo Wink & Dj Buzzard
Target Release Date Feb 08,2016
After the successful releases of Your Pain "The Original Story" and "The Story Retold" (Part 2 Remixes) by the talents of Tayo Wink.hWah & Dj Buzzard,comes our last installment of this magnificent musical story featuring banging closing mixes by South Africa's best kept secret NeighbourboySA.Also included in this hot package is once again offering a deep remix is our very own Tayo Wink & Dj Buzzard respectively.We are sure that you will enjoy this set of remixes as you did the others and hope you can continue to support our artist and producers as well as our label.
I would like to thank everyone that was involved in this project and be on the lookout for more of Harold Brandon of In BlueBlackness and our squad of producers in the near future.
Sammy Rock – Cyberjamz Records
Pick up The Original Story Mix here – http://bit.ly/1W1Ixqy
Your Pain – The Story Retold (Part 2 Remixes) – http://bit.ly/1IkqrJ
Tracklist:
1)NeighbourBoySA`s flavoured remix (7:15)
2)NeighbourBoySA`s testimonial remix (6:43)
3)Tayo Wink Unreleased Massive Rythms Mix (9:13)
4)A Dj Buzzard Unreleased Rethought Mix (6:24)
Lyrics performed and written by Darren H. Brandon, IN BLUEBLACKNESS productions
DHB Music ASCAP 2015
produced by NeighbourboySa (I'll do anything for Cyberjamz)
additional productions & music composers
Tayo Wink for Coyote Entertainment ASCAP
DJ Buzzard Publishing: Drazzub Arts Publishing (ASCAP)
CoverArt  by JorgeG Graphix and Design – jorgegee@gmail.com
licencing and contact:
midee500@hotmail.com
sammyrock@mail.com
Tayo Wink on Facebook – https://www.facebook.com/tayo.wink?fref=ts
NeighbourboySa on Facebook – https://www.facebook.com/neighbourboysa?fref=ts
Cyberjamz Records on Facebook – https://www.facebook.com/groups/cyberjamzrecords/
Keep your ear to the Ground – Cyberjamz Records 2015 – 2016.