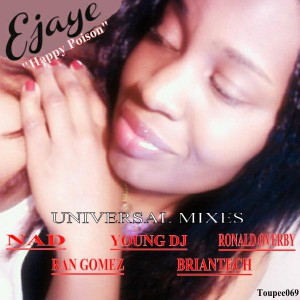 Release:Happy Poison (The Universal Mixes)
Artist:EJAYE (mixes by Ronald Overby,YoungDJ,NAD,Ran Gomez & Briantech
Label:Toupee Records
Ejaye returns to Toupee Records with a fun spoken-word piece with HOT mixes by Youngdj (South Africa), NAD (South Africa), Ronald Overby (USA), Ran Gomez (New Mexico) & Whoisbriantech (Brian Nance) (USA).
From deep to tech house and right back to deep & electronic, this package has something for that special deejay and Erickas Voice delivers such a sensual piece that hearing it melts you right into the music.So get the whole package and you too can unleash your Happy Poison.
Lyrics by EJAYE
produced by SammyRock
bookings and info:
contacthousecat@gmail.com
Label A&R Catherine Harris
Another La gata de fuego Joint 2018.