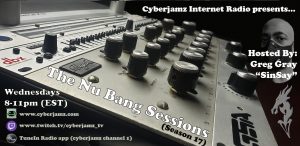 Greg Gray (The Sinsay) and The NuBang Clan Sessions return for it's 17th Season at Cyberjamz Radio.This is One of our very first music programmers here at Cyberjamz Radio Headquarterz.,Greg Gray continues to make his presence known by playing some of the best in deep,chicago house and more !If time permits check-in and check him out.Tune in every Hump-Day Weds on Ch.1 8pm – 11pm est *Now also streaming on TwitchTV at Come and find out why this programmer is one of our most valuable assets.
**Also now at Bandcamp, check out and purchase new music by Sinsay!
Mass Order Lift every Voice (Sinsay Remix) https://thesinsay.bandcamp.com/
The Cowbells – Cyberjamz Theme (Sinsay & SoulCat Mixes)
https://bit.ly/3hdBDKF
https://cyberjamzrecords.bandcamp.com/
Join our Cyber-Bandcamp Music Group Page today!
Hey guys, if you have a Bandcamp Page and would like to promote your releases, please join our new group page.