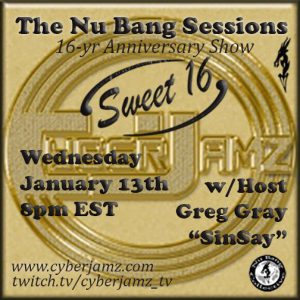 We will be Humpin' today at Cyberjamz Internet Radio as we celebrate our very own Greg Gray (The Sinsay Melei) of the NuBang Clan Collective a Happy Sweet 16 Anniversary at our headquarters from 8pm to 11pm est and beyond.
This here is a big deal to us in that Greg has been putting it down for over 16 years holding down the same time slot and day of the week. It all started out with him being a Super-Sub, filling in the gaps whenever he was needed and finally this time slot of Weds from 8pm-11pm est opened up, he took it by storm and has become one of the most loyal music programmers in our history!
So tonight we invite you all to stop by either Cyberjamz or CyberTWITCHTV at https://www.twitch.tv/cyberjamz_tv
There is a lot of history between us as brothers and that is a bond that can't ever be broken and one thing for sure is that Cyberjamz Radio = Longevity for our music programmers and so we thank you for all of your hard work and dedication in bringing musical excellence to the world and for keeping our culture alive.
SammyRock aka Soul Oasis.
Catherine Harris Rowell
http://cyberjamz.com