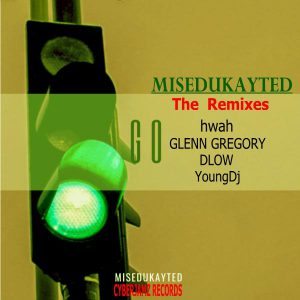 Lovely Hot Release Alert..
GO! Misedukayted (Part 2) (Remixes by Håvard Kvangarsnes (hWah),Glenn Gregory , Derrick DLow Singfield DLOW , YoungDj – Moloko Manganyi & Misedukayted )
GO! Misedukayted (The Remixes Part 2) hWah,Glenn Gregory,DlOW & YoungDj
Traxsource: https://bit.ly/2UdctEF
Itunes: https://apple.co/2HDQBMM
Amazon: https://amzn.to/2FyuV1n
Google Play Music: https://bit.ly/2HSw2vu
Spotify: https://spoti.fi/2TWHSff
Junodownload: https://bit.ly/2Gcqs4D
*Inspired by the #METOO Movement comes GO ! , a serious track with a strong story line and music to match as told by Misedukayted. I really love this piece and her poetic way in which she delivers this song will have you at awe. This track will touch us all when you hear the lyrics. These remixes are simply wonderful as they all hold their own and Håvard Kvangarsnes (hWah) has done an exceptional job in producing this dance floor piece featuring lovely organ riffs,keys and bass-lines by keyboardist Hammond Asterios of Papastamatakis Records. Both Hwah and Hammond Asterios took this track to another level and it's one of my favorite mixes off this package.
Also featured in this set of remixes is Glenn Gregory's peak hour remix which is just as good as any of the remix offered in this package and was produced with dancers in mind.This one is for the dance floors so let us chalk this one up as a favorite. Next is a deep house mix by Derrick DLow Singfield ,my NuBang Clan brother out of Baltimore MD USA. His mix takes us to the deeper side of things and is very effective for dancers.Without a doubt this dub is hot in it's own right.Finally we got a wonderful Afro Tech Style ReMix by Moloko Manganyi – YoungDj (S.A) who never disappoints when it comes to deepness.
coming soon Cyberjamz Recs 2019.
Go! (Part One) – Misedukayted (Sal Negro Gotta Go Mix) – Cyberjamz Records
Traxsource – http://bit.ly/2SmYSuB
I-Tunes – https://apple.co/2SAVifn
Amazon Music – https://amzn.to/2ROzzw6
Google Play – http://bit.ly/2UUlob1
Spotify – https://spoti.fi/2ROb6qP