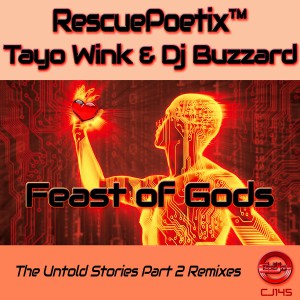 Cat #CJ145
Feast of Gods – RescuePoetix – The Untold Story (Part Two) – Mixes by Tayo Wink & Dj Buzzard
Cyberjamz Records
out now – Traxsource.com  http://bit.ly/1QqFfdv  or  Junodownload.com http://bit.ly/1JHce9y
RescuePoetix(tm) continues to be a driving force behind the spoken-word /poetry musical journey and coming off the hot release "Feast of Gods"/"Humanity" (Part One) with mixes by Tier Ra Nichi & 12shades avail at http://bit.ly/1GyZEo0 or http://bit.ly/1v83UUO  . This time we offer you The Untold Story  Remixes (Part Two) by the hot Tayo Wink & Dj Buzzard respectively.Both of these producers bring it proper with music and the powerful  lyrics by RecscuePoetix(tm) are made for dance floor.
We hope you enjoy these set of remixes and become a part of The Untold Story.
Tracklist:
1)Tayo Wink Afro Rythms ReMix (6:51)
2)Tayo's Natureland Remix (6:39)
3)Dj Buzzard Rethought Mix (5:28)
Vocal lyrics performed by RescuePoetix(tm)
produced by Tayo Wink & Dj Buzzard
Original piece written by : Rescue Poetix(tm)
copyright: Susan Justiniano BMI 2014
Booking and Info
RescuePoetix(facebook)
https://www.facebook.com/RescuePoetix
Email: rescuepoetix@gmail.com
sammyrock@mail.com
contacthousecat@gmail.com
Cover Art by JorgeG Graphix
jorgegee@gmail.com
Keep your ear to the ground  Cyberjamz Records 2015
This is another Coyote Entertainment Joint 2015.