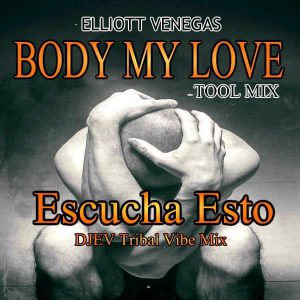 Oh man..we are taking on 2020 in full force! Here we have another hot release Alert!
Elliott Venegas – "Body my Love" & "Escucha Esto" – Cyberjamz Records 2020.
This producer has been on fiya all of 2019 by banging out a few hot dance floor jams & Dj Tools for the dancers at heart. In this package, we have two extraordinary pieces each dedicated to the music programmer in order to be delivered the right way to dance floors the way only a deejay can. If house music is whatcha love, then I highly recommend "Body my Love", a fantastic 4 to the floor beat down with all the right elements to have this at your fingertips to play and for you jacking tech-house programmers, we encourage you to drop "Escucha Esto", a Latin spoken-word tech jam full of hot beats that will have your dancers in a frenzy. Both of these pieces need to be in every deejay's collection cause you just never know when your event is going to need that one slamming cut!
produced and mixed by Elliott "DJEV" Venegas