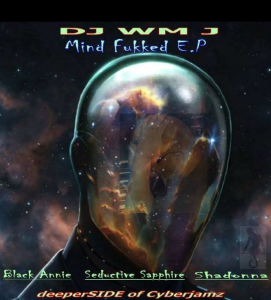 Hot Hot Music Alert ! DJ W MJ – Mind Fuckked E.P featuring Black Annie/Seductive Sapphire/Shadonna – deeperSIDE of Cyberjamz
Dj WM J retuns with this awesome E.P and will take you into his musical mind featuring Black Annie,Seductive Sapphire & Shadonna.All three artist bought their game to the table while Dj W MJ took care of the rest.
First offering off this fantastic E.P is entitled "Rise" with vocals by Black Annie, is a very positive lyric filled jam which gave me goosebumps as Dj WM J also lends us his vocal and after listening to it,you too will want to Rise and take control of your life.Next up we have our very own Seductive Sapphire with "He Says", a feel good track for both men and woman with lyrics of love and relationships and how a man elevates HIS woman to Queen.I love this piece and that part of her poem in that stood out for me.Following those two wonderful tracks we have "Love", another beautiful piece given to us by Shadonna."Love" is a special funky dance floor track with all the right elements that only that only WM J can connoct.Finally we have "Mind Fukked",a unique trip into the world of music and mind of Dj WM J.
I truly love this E.P and we hope you do too!
You guys are in for a serious treat with this release as I truly love it and hope you do too!
coming very soon to deeperSIDE of Cyberjamz 2018.