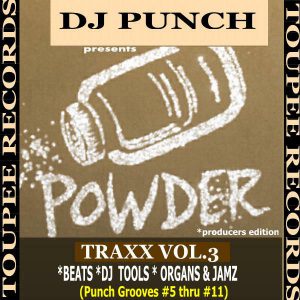 Dj Punch presents: Baby Powder Traxx EP Vol#3 (Beats – Dj Tools – Organs & Jamz) – Toupee Records
Target Release Date Nov 27,2020
Dj Punch returns once again featuring VOL #3 offering a few more break downs that deejays are gonna love to play in their sets. These awesome pieces range anywhere from soulful to deep..from deep to afro and everything in between to make deejays creative in their mixes.Also, this EP is all about the Beats – Dj Tools – Organs & Jamz,so deejays are going to have fun using a few of these loops to create your own remix on the fly!!
produced by Dj Puch for Baby Powder Music 2020.