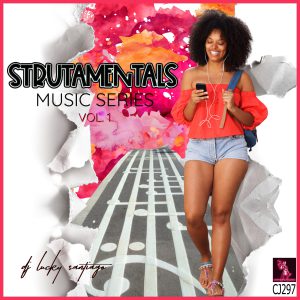 Hot Release Alert – Dj Lucky Santiago pres.Strutamentals Music Series Vol.1 Cyberjamz Records.
OUT NOW Strutamentals V1
DJ Lucky Santiago – Ab Shabazz
Cyberjamz – https://bit.ly/385e0RK
OMG, What can we say about this hot producer other than the featured tracks in this spectacular EP are exactly what deejays and dancers would want to hear at a time like this in 2020? Dj Lucky Santiago is a beast behind his productions and this EP is just another example of what's coming in the next few Strutamentals EP , from Volumes 1 through 4 that range from soulful house, deep, afro, tech, and jackin house respectively.
Expect the unexpected with Strutamentals Vol.1
————————————————————————————————————————————————————
Hot Release Alert!! Dj Lucky Santiago – Ab Shabazz pres: Strutamentals Music Series V.1 – Cyberjamz Recs Target release date June 26,2020
What can I say about this producer other than he has been on fiya and this package here delivers nothing but heat from start to finish! Each track is custom made for those truly hardcore deejays out there that love nothing but bangin cuts in their sets. This whole entire music series consists of 4 to 5 different volumes and each is more powerful than the last. This release is a must for collectors of good music and for dancers (our time is coming to soon dance again) Keep your ear to the ground.
all tracks produced by Dj Lucky Santiago
Santiago Music 2020.
cover by April Shabazz
**Pick up all his music at https://bit.ly/3dduFn8
or for more of Dj Lucky Santiago Music check out his site at https://www.djluckysantiago.com/music
Contact and info https://www.facebook.com/ab.shabazz
Another SOULCAT Joint Cyberjamz Records