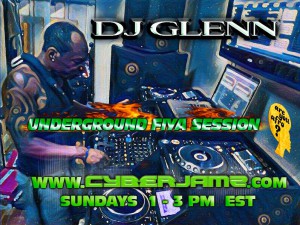 The Underground Fiya Sessions airs Sundays 1pm-3pm EST.
BIO:Harry Glenn aka "Dj Glenn" has been blending music in his basement since the age of 13. Some of his biggest influences were Timmy Regisford, Tony Humphries, Tee Scott, Abigail Adams of Movin Records, Merlin Bob, Frankie Knuckles and host of others. He was a kid off the mean streets of Newark Nj with a passion for House music. As he matured, the place to be was the Zanzibar, Paradise Garage, The Red Patriot, Better Days, Studio 54, Area, The Red Parrot, Club 88, Peppermint Lounge, Paradisios. Lets not forget The Shelter, home of Timmy 'The Maestro' Regisford, and many more. Dj Glenn has played at many venues in and around the New Jersey – New York City area.
Special thanks to CyberJamz Internet Radio for all you have and are doing to make and keep this thing called House music ALIVE.
Free mixes http://www.mixcloud.com/HarryDjGlenn
FB contact – https://www.facebook.com/harry.djglenn