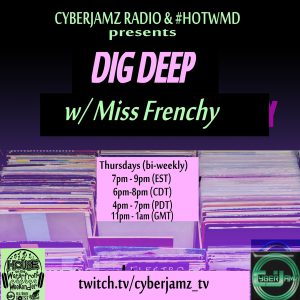 WE LOVE WOMEN MUSIC PROGRAMMERS AT CYBERJAMZ RADIO!
HOT NEW SHOW ALERT!! Welcome DJ Frenchy's DIG DEEP Show to the Thursday lineup (bi-weekly) debuting on May 13th from 7-9pm EST! at CyberTwitchTV https://www.twitch.tv/cyberjamz_tv
Miss Frenchy calls herself a music nerd, she fell in love with house music back in her hometown of Montreal and has never looked back. Miss Frenchy's musical Influences were Derrick Carter, Mark Farina, Little Louie Vega, Dj Heather, SuperJane Female Collective, and many more. It was the love of the music that convinced Miss Frenchy to purchase her first DJ setup, and as they say, the rest is history. Miss Frenchy has played at various venues in both Atlanta and DC and was a founding member of the 4Deep ATL Collective, which helped propel Atlanta into the house music scene during the 2000s.
You are invited to experience DIG DEEP, a bi-weekly broadcast on Cyberjamz_TV – Twitch 7-9pm EST. Tune in for the debut on Thursday, May 13th.
For bookings: valentine.joseph@gmail.com
Follow Miss Frenchy:
https://www.instagram.com/nerdygirl1
https://www.mixcloud.com/missfrenchy/