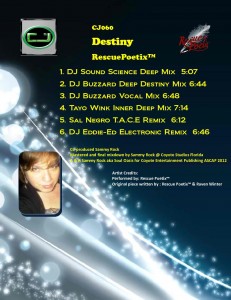 Destiny
RescuePoetix™
Target Release Date May 21,2012
1. DJ Sound Science Deep Mix  5:07
2. DJ Buzzard Deep Destiny Mix 6:44
3. DJ Buzzard Vocal Mix 6:48
4. Tayo Wink Inner Deep Mix 7:14
5. Sal Negro T.A.C.E Remix  6:12
6. DJ Eddie-Ed Electronic Remix  6:46
Destiny© is an original piece written by RescuePoetix™ and Raven Winter. Destiny is a journey of the spirit, the movement of our inner most courage to persue the dreams we forget about in the daily grind of survival. We each have the instincts that lead us to make decisions, "boldly she whispers", it's simply a matter of trusting basic instincts. There comes a point in each of us when we decide to release ourselves of controls and let "Destiny" take over, persue dreams, reach beyond ourselves to the unknown, to free ourselves to believe. Destiny "plays by her own rules" to lead us to freedom, whether it be physical, mental, spiritual or emotional. Destiny shows us we succeed in our lives by allowing ourselves to succeed.
Artist Credits:
Performed by: Rescue Poetix™
Original piece written by : Rescue Poetix™ & Raven Winter
Susan Justiniano BMI 2012
A & R Sammy Rock aka Soul Oasis for Coyote Entertainment Publishing ASCAP 2012.