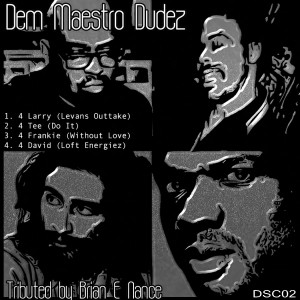 Hot E.P Alert.
Dem Maestro Dudez – Tributed by Brian Nance – Deeper Side of Cyberjamz Records.
What we have here is a collection of dope remixes completely redone on the deeper tech side of things giving ode and tribute to the Maestros of House Music.Franky Knuckles,Larry Levan,Tee Scott & David Mancuso. (R.I.P)
Great interpretations .
re-done by Brian Nance
cover garnetjade
garnetjade@gmail.com