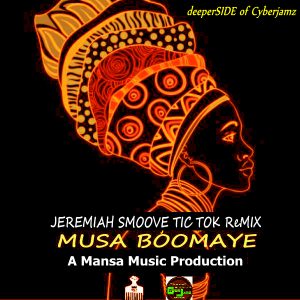 Hot Afro Sptirual Track Alert! deeperSide of Cyberjamz & Santiago Music presents: Musa Stretch – Musa Boomaye (Jeremiah Smoove Tic Tok Remix) – deeperSIDE Target release date Friday, April 23,2021.
Here we go with a new feel this already hot jam released last year by Musa Stretch with a bangin mix by Dj Lucky Santiago. This time around this piece gets a slamming re-make ova by Jeremiah Smoove out of the Santiago Music Camp. Keep sleeping while we break this jam out.
produced by Musa Stretch
co-produced by Ab Shabazz (Dj Lucky Santiago)
Remixed by Jeremiah Smoove for Santiago Music 2021.
*pick up the original mix today at https://bit.ly/3mtZWIH
Another SoulCat Joint 2021.