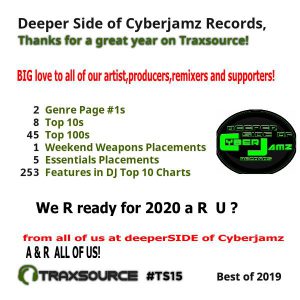 deeperSIDE of Cyberjamz would like to thank all of our artists, producers, remixers, supporters and those deejays that have charted our music.
This label really took us by surprise with a few nice jams by Tayo Wink, Greg Gray, Da Hit Makers (David Barber & Djtsmooth Farrar) , Calvin Sol, Tariq Brodie, Elliott Venegas, Suprena Millett, Djjoels Muzyk , Rescue Poetix, Derrick DLow Singfield, Lesley Mthethwa, DjPunch Zanzibar Tim Soundscience, Damond Ramsey (MR.DMAX) , Dj Phantom (Walter Phant Ellison) , Mark Mcaden , Shinobi Black , David Britton , Jackie Queens, Mona Bode William Djwmj Curtis , Black Annie Cheryl Cox , Sheila Johnson (Seductive Sapphire), Ronald Overby ,Ran Gomez , Dj Buzzard Hugh Harrell IV , DjERV Erving Batista , Dj DeepFX , Paco De Roccco & Roby Maas A-Freaq Named Bluza , Dj Sounbwoy and more!!
get em all here: https://bit.ly/2EerM6F
We are ready for 2020, R U ???
A&R – This label belongs to ALL of US!