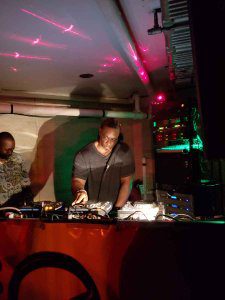 DASH – David Shell presents THE RIDE at Cyberjamz Radio every Friday Night from 8pm – ?? est USA TIME. Now streaming on both our site and the CyberTwichTV.
TWITCHTV – CHANNEL/MOODY60
Dave Shell "aka" DASH has been a lover of music from birth. He started collecting records at age 7 buying 45's from his local record shop and as he got older traveling the Tri-State area searching for the hottest vinyl to make the dance floor move. His love for spinning records started in 1975 when his older cousin Cornelius introduces him to the club scene where his interest in playing records began. By 1978 he already had his own sound system and was hired to do parties at local colleges and also started giving his own events in the NJ area. His love of soulful dance music has always been his passion where he displays his style of blending and riding songs for seemingly hours on end. He is also one of the residents Friday DJs at one of NJ Hottest Underground Dance parties Elevation for the past 10 years. His love for music has also sparked his creative side. He has produced and release music under the name DASH with a deep underground feel that can be purchased at www.traxsource.com. You can always hear him doing his weekly internet show every Friday at 8 pm on www.cyberjamz.com that also streams live on Twitch/TV. With over 40 years of playing music his love for Soulful Underground Music will never die.
BOOKINGS/CONTACTS
djshell105@comcast.net
FACEBOOK – David Shell
IG – @MOODYDASH
Releases by DASH at traxsource https://bit.ly/2IzrGMb
TWITCHTV – CHANNEL/MOODY60 – https://www.twitch.tv/moody60
New Mixes up at Mixcloud
MIXCLOUD/David Shell
Mix sets up at Podomatic djshellmoody.podomatic.com
Soundcloud – SOUNDCLOUD/Dave Shell