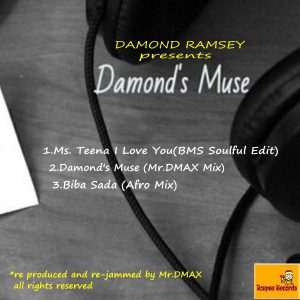 Hot Release Alert! Damond Ramsey (MR.DMAX) – Damond's Muse – Toupee Records release date Oct 16,2020.
Baltimore native DJ/Producer Damond Ramsey (MR.DMAX) is back with this exceptional three-piece package featuring a set of soulful house mixes and an awesome afro track that we are sure you all will enjoy. Put them in our rotation and dance to the music.

Damond Ramsey presents Damond's Muse EP (Toupee Records Promo)
This dope EP by Damond Ramsey forthcoming to Toupee Records features a total of three tracks, of which Damond's respectful and soulful yet lively four-to-the-floor re-imagination of Teena Marie's wonderful Baby I love you (from her 2009 album Congo square) is our favorite. Not to forget to mention Biba Sada and the title track Damond's muse both of which are fueled with enticing synth melodies and intriguing rhythms.
Michael Fossati
http://spiritofhouse.com
Music is life and life is our MUSIC!
re-produced,re-programmed and re-jammed by Mr.DMAX
cover – Damond Ramsey
Another SOULCAT JOINT 2020.