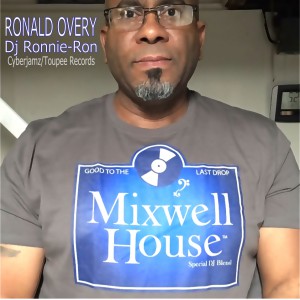 Cyberjamz/Toupee Records acknowledges deejay , artist and producer Ronald Overby (Dj Ronnie Ron) .
This brother here took a hiatus from music to catch up on daily life situations and family of which always comes first and for that I have nothing but respect for this talented producer.Before he decided to get back into the production game,Ronnie Ron had released 2 dance floor joints "Cold Heat feat Marcel" & "Kryptonite E.P" both on Unified Records

both of which were very good.This time he has delivered quite a few lovely E.P's ranging from Deep House to broken-beat.Let us begin by rolling it back to his "Court Jester" release and the hot "Activate Jupiter" EP series Parts 1 & 2 E.P out now on Toupee Records.He has a nice deep house release entitled "The Naked Truth E.P" which takes a look into the deeper side of Dj Ronnie Ron. He has also contributed to a few remixes featuring Seductive Sapphire, RescuePoetix,Harold Brandon (IN BLUEBLACKNESS) and Vanessa Smith.
His latest E.P "The Sands E.P" is yet another side and look into his mind and soul and is rocking lovely in the Afro Charts at Traxsource.com We are looking forward to more of Ronald Overbly in the near future,in the meantime cop his music and E.P's avail now !
Links provided bottom of his bio.
RONALD OVERBY (Dj RonnieRon) BIOGRAPHY
Born in Newark New Jersey Ronald Overby has recently released his new E.P "The Sands" feat Seductive Sapphire on Cyberjamz Records.The development of his style is the result of a lifetime of musical influences beginning as a young child, his uncle was the great music producer George Kerr (the Moments/Ray Goodman and Brown – Linda Jones – the Whatnauts – the Escorts and many other famous musical acts. Ronald was fascinated by all of those musical stars actually coming to his Uncle & Aunts home in East Orange New Jersey all of the time and he believes this started his musical journey.
Ronald Overby's love affair with disco began in the mid 70's while attending the twin city roller rink located in Elizabeth New Jersey. His music ambitions continued to grow aided by the sounds of the greatest club and house dj's on the planet that include David Mancuso, Tony Humphries, Larry Levan, Hippy Torales, Greg Gray, Glenn Underground, Naeem Johnson, Alan King, Dj Punch, Tee Scott and others to numerous to mention but were all so influential in his musical journey.Ronald gives credit to Dj Dennis Gregory of Yellorange records, Rodney B and Elliot Venegas for mentoring him as he began his Dj journey.
Ronald also gives credit to his longtime friend Samuel Acosta (dj SammyRock) for taking a chance on him and putting up his first internet mix on his web site SammyRock.com later to be known as cyberjamz.com as well as Dj Adam Cruz the founder of mixtape sessions who booked him for his first dj gig.In the mid 2000's Ronald began to communicate and build relationships with some of the Chicago house music dj greats and would later be voted into the Chicago based Dj group the NU BANG CLAN founded in April of 2001 by Alan King, Greg Gray, Cordell Johnson, Jere McAllister, Tim McAllister, Earl Bryant, Steve Price, Romell Shaw, Randy Halbert and Fred Anderson.Soon after 2008 Ronald began to think about production work and was given good council and tips on producing from Jalal Johnson and others. Ronald has had his music on the following record labels to include NY Soul, Unified Reords, C Muzic, Cyberjamz and Toupee records.Ronald is also founder of the website ThiSmiX.com and is a member of DeepHousePage.com his facebook page is Ronald Overby
Ronald Overby Aka Dj Ronnie Ron – NU BANG CLAN
bookings and info: contacthousecat@gmail.com or sammyrock@mail.com
Purchase Music at Traxsoruce.com or Junodownload.com
The Sands E.P Ronald Overby Feat. Seductive Sapphire Ronald Overby – http://bit.ly/2gbRyem
The Naked Truth E.P – Cyberajmz Records – http://bit.ly/Z3gPhu
The Court Jester – Dj Ronnie Ron (Ronald Overby) – Cyberjamz Records http://bit.ly/1yIQU9k
Activate Jupiter E.P – Ronald Overby (Dj Ronnie Ron) – out now Toupee Recs http://bit.ly/1z1RxMr
Activate Jupiter E.P (pt2) Ronald Overby – http://bit.ly/2bTfpOG
Primal Collective East E.P – http://bit.ly/1JGngLf or – http://bit.ly/1LreeS3
Unified Records.
Cold Heat Ronnie Ron, Marcel – http://bit.ly/2g50dmm
Kryyptonite EP – Ronnie Ron http://bit.ly/2haZDQ2