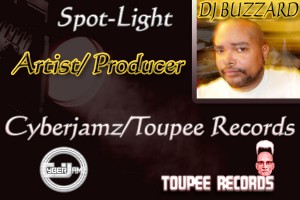 Cyberjamz/Toupee Records producer spot-light is on the multi-talented Dj Buzzard.
This producer is out of the Baltimore area and has been in the production game for some time now.I first met Dj Buzzard at Deep House Page,a music community site and we kicked it off right away.What got my attention of Hugh Harrel IV was his attention to detail and remixing abilities as well as his motivation to make the best with what he had to work with no matter the project.Famous for his Re-Thought production which goes back from  2007 to present is what made me notice him. When I heard his  hot remix of "The Afronauts" with Dj Spen & Kenny Dope on Code Red Records ,It immediately caught my attention. He also had quite a few re-thought productions of select classics and R&B tracks of which are my favorites till this day.
In 2009 Dj Buzzard came on board the Cyberjamz Records family and produced a banging afro,broken beat,deep house release "From the Lair E.P" Vol.1  featuring his own vocals in the cut "Samba Caca",a true afro-ride into the dance floor.Also featured on this E.P is the underrated piece "Hot Weld" & "Smoking Buzz".Later that year we teamed up again to release "Connected Minds" by Weysa Dya & "3 Ways to lose my Love" (Wincie) – The Unreleased Mixes.His re-thought mixes bought him a step further in the releases "Ode to Muzik" by Crescendo & "I gave you my Heart" – Heather Walker,which didn't end there but took on a new form of it's own with the lovely remix of "Destiny","Feast of Gods", and "Humanity" ,all by the talented spoken-word artist RescuePoetix(tm).The track "I am Woman" by the legendary K.joy is his best work in my humble opinion and the re-thought of the dance floor hit "Just Deep" with Seductive Sapphire have made their mark respectively.His latest remix rethought of the banging "Your Pain" – In Blueblackness (The Untold Stories Part 2) is yet another nicely produced piece by .. you guessed it. Dj Buzzard.
Dj Buzzard Re-Thought Discography:
From the Lair E.P – Vol #1  –  http://bit.ly/1lmMG3Y   – Cyberjamz
3 Ways to lose my Love(Wincie) The Unreleased Mixes  –  http://bit.ly/1Rj5Ck8 – Cyberjamz
Connected Minds – Weysa Dya –  http://bit.ly/1l4SHWV – Cyberjamz
Ode to Muzik – Crescendo – Dj Buzzard Power Chute –  http://bit.ly/1LL30nT   Cyberjamz
I gave you my Heart – Heather Walker – Dj Buzzard Alternative Mix – http://bit.ly/1y8kpEs – Cyberjamz
Destiny – RecuePoetix(tm) – http://bit.ly/1l5DAMl – Cyberjamz
I am Woman – K.Joy – Dj Buzzard Re-thought Mix – http://bit.ly/1IlOQil – Cyberjamz
Feast of Gods – RescuePoetix – Dj Buzzard Re-thought – http://bit.ly/1IzAOEL
* Just Deep – Tier Ra Nichi feat Seductive Sapphire – http://bit.ly/1MNVgaZ – Toupee Records
Humanity – RescuePoetix(tm) – Dj Buzzard Re-Thought – http://bit.ly/1IlPe0q
Your Pain – Harold Brandon – In Blueblackness – http://bit.ly/1IkqrJT
*Other projects:
Traxsource – http://bit.ly/1PrmB4x
Junodownload – http://bit.ly/1IzEAha
contact and info:
Facebook – https://www.facebook.com/djbuzzard
Cyberjamz Records – https://www.facebook.com/groups/cyberjamzrecords/
Toupee Records – https://www.facebook.com/groups/210071055842963/