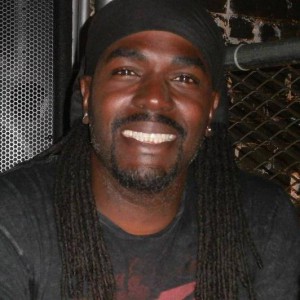 Cyberjamz and Toupee Records is proud to add yet another gifted artist and producer to our record labels.Check out his new releases out now at:
http://traxsource.com
http://junodownload.com
http://stompy.com
Bio & Info
Being born into this neighborhood in the 70's also exposed Rob, as he is called by family and friends, to the roots of the Hip-Hop movement. In the early 80's his family decided to move to California. This relocation placed Rob and his family in a neighborhood just West of Los Angeles and helped to broaden his exposure to different styles of music. Through this exposure, Rob grew to love music as a whole but he was particularly fond of Dance music and Hip-Hop.
Not finding the financial stability that she had been hoping for, Rob's mother decided to return, along with her children to the East Coast. This time the family settled in Northern New Jersey. By this time Rob was in middle school and was beginning to show interest in becoming a DJ. He began to practice his skills on the family stereo. Through his initially crude method of using one turntable and a tape deck to create mix tapes, he became proficient enough to begin to share the mix tapes that he created with his friends. One of these friends had been gifted a set of turntables for his birthday and began to let Rob practice on his set.
DJ Panther's love of music and DJ'ing led him to playing small parties for his friends until he entered college in 1990. Upon entering college he became friends with two other DJ's and the three of them formed "The Black Assassins". Rob then became known simply as DJ2. "The Black Assassins" became very popular on the local college party scene. They were hired to do functions at Kean University and local pubs. The group was known as a Hip-Hop and House DJ group and as DJ 2's musical taste began to show a greater love of House Music, the other members began to lean on him to cover the House sets at all of their gigs. DJ Panther's (aka DJ2) House sets became the talk of the circuit as well as his love for playing a long song so that he could get his work in on the dance floor too. After about two years on the circuit, one of the founding members decided to transfer to another college. DJ2 and the other remaining member attempted to keep it going but after a few months the group disbanded.
Disheartened by the breakup of "The Black Assassins", DJ2 went on hiatus from professional DJ'ing. During this break he continued his degree work but eventually felt the call of duty. He left college to serve in the US Military. Toward the end of his 10 year service in the military DJ2 was reunited with the original members of "The Black Assassins". This reunion reignited the spark within DJ2. And, after practicing with his brothers in DJ'ing for a few months, DJ2 felt the need to begin to share his love of House music with the public once again and DJ Panther72 emerged.
DJ Panther72's emergence as a solo DJ also included his newly developed skill of track production. His distinctive style of DJ'ing and production encompasses the ferocity that is synonymous with the panther and can be heard behind the up and coming acts Z1 Nation and the Undalrds out of Pittsburgh, PA.
He has also made appearances at venues throughout New Jersey and New York.