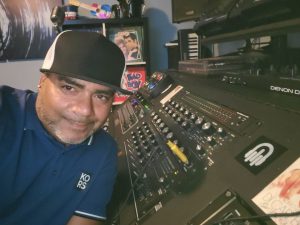 Cyberjamz – Toupee & deeperSIDE of Cyberjamz Recs welcomes Djnelone Maldonado to our labels. Check out his debut cut "Oy Se Bebe" (Today we Drink or Today we make a toast).
Today I would like to make a toast to this brother from The Boogie Down Bronx for doing his thing up there and surrounding areas and for hosting hot outdoor house music events during the summer. So if you are in the Bronx, NYC and the bxbullies is throwing an event, you best be ready for a day of music, family and friends, and OH. the BBQ!!!
Short bio and info https://bit.ly/3dC0NTG
Pick up Oy Se Bebe at traxsource https://bit.ly/3sPBzri
Bio and info:
DjNelone has been deejaying for over 30 years and one of my biggest inspirations was listening to Tony Humphries on 98.7 kiss FM in the late 80s to early 90s. Louie Vega is another one of those producers that encouraged me to become a music programmer as well as trying my hand at music production.
I attended various spots in New York City which include Club Exit, Club New York, and the 2is as well as I've spun music at various different venues across New York and parts of New Jersey respectively. I'm also currently the Vice President of Bxbullies (A music family dedicated to bringing house music to the Bronx by offering and hosting several events throughout the Tri-State area for the past 10+years and still providing music excellence for the lovers of music.
If time permits check into my online weekly sets featured at the Award Winning Cyberjamz Internet Radio https://cyberjamz.com The Bxbullies Radio Show comes on every Friday into Saturday morning from 11 pm to 1 am est USA TIME and also on TwitchTv.
Bookings and info at Facebook https://www.facebook.com/djnelone.maldonado