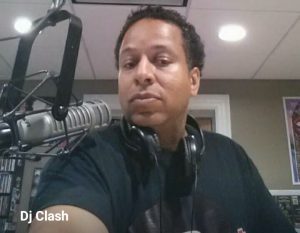 Cyberjamz – Toupee & deeperSIDE of Cyberjamz Records welcomes Darren Jakasal aka DJ Clash to our labels.
Dj Punch introduced me to Dj Clash a few months ago and upon listening to this brother's work, I was immediately hooked to his sound after hearing a few pieces done by him and Dj Punch. Both of these producers will be feating in our next Cyberjamz Records release titled "The PUNCH-Clash EP (v1) which will be released the first week of May 2021. This EP alongside other pieces will be featured in the upcoming weeks on our weekly SOULCAT Show.
So keep your ear to the ground for a few upcoming jams on our labels and more at Cyberjamz Internet Radio (since 2003) cyberjamz.com
Bio & Info
Darren Jakasal aka DJ Clash was born into humble beginnings in Long Island City, Queens. Queensbridge was one of the "projects" that produced an abundant amount of talent in the Hip Hop culture. DJ Clash grew up listening to 92.3 WKTU with Shep Pettibone and the Latin Rascals, and Inner City Broadcasting 107.5 WBLS own Mr Magic, and DJ Marley Marl. They inspired DJ Clash to become well-connected to the early Hip Hop and R&B style of music.
During the sizzlin' summer of 1984, DJ Clash spotted a place called The River Park- a site where the community gathered around to play baseball or to have fun dancing to the Disco, R&B, and Hip Hop craze. Monumental pioneers of Rap and Hip Hop music were the Orr Brothers, The Disco Twins, DJ Hot Day, Grandmaster Flash, and DJ Marly Marl. DJ Clash also met with Legends Mobb Deep's "Havoc" father, DJ Smurf, who taught him how to spin records on non-pitch turntables.
Cruising on into 1986-1989, DJ Clash connected with DJ Marly Marl on WBLS 107.5 FM. Later, DJ Clash worked side by side with Marley Marl on a show called "In The Mix", which was number one for three straight years. After working at WBLS, DJ Clash spun records in over 25 nightclubs, including: The Tunnel, The Underground, The Milky Way, and The Sound Factory Bar in New York City.
Spinning into 1989-1992, DJ Clash became an assistant recording engineer, mixer, and editor at Marley Marl House of Hits studio. DJ Clash acquired 7 Platinum and 5 Gold records and recorded and mixed predominantly Hip Hop and R&B with such A-list artists such as LL Cool J, DJ Peter Rock, CL Smooth, Heavy D, TLC, Eric Williams of Blackstreet, and the Juice Crew Stars.
Closing out the century and millennium in 1997-1999, DJ Clash embarked upon Brighton, England. Spinning records on Surf 107.2 FM with Mike Panteli, and Mick Fuller. DJ CLash spun the latest in Hip Hop, Speed Garage, Drum and Bass, Reggae, and Disco Classics for the next two years spinning at such nightclubs as: The Beach, JR's, The Zapp, The Flava, and the Atlantis.
Entering into the millennium in 2000, DJ Clash established a small record label named, "Shifting Ground Records" in Winston-Salem, NC. He collaborated with producer Rod "Dephat" Carter of House of Phatz Production, making Gospel, Underground Hip Hop, and House Tracks.
Shifting into 2002, together with the strong direction from God, DJ Clash became a Board Operator, Air Jock, and Mixer for the www.futureflavasonline.com network. There he helped spread the word of God through music ministry. You'd often find him spinning at Thea's, The Elite Key Club, Tony's Lounge, Hawthorne Inn, and Club Celebrity. He could have also been heard every Friday and Saturday between 7PM-8PM on www.niaradionetwork.com.
In conclusion, in 2005, DJ Clash revolutionized his company name to "Method To Sweat Productions". Consequently, he went from vinyl to digital. From 2005 to now, DJ Clash has been seen DJing at local NC hot spots, such as Mod Bar and Lucky Blue. He's also been DJing Rock The Block and events such as the Black Festival. DJ Clash has also been expanding his DJ services to weddings and birthday parties. DJ Clash is one of the top DJ's in the Triad. His passion for music is second to none and it is what motivates him to make sure that each event he DJ's will be the most memorable….after all, he is "Method to Sweat Production!" His favorite motto during his events is "Go hard…or go home".