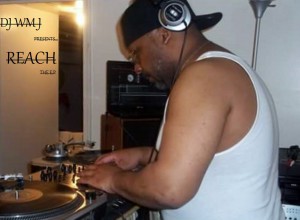 Cyberjamz/Toupee Records welcome deejay/producer Dj WMJ to our record label.
We at team Cyberjamz/Toupee Records are always on the lookout for that special artist or producer out there not receiving any recognition or for someone to lend an ear. This time we lent our ear to producer Dj WMJ who sent us a fantastic debut E.P entitled "Reach"..
This hot E.P consist of 5 dance floor cuts, 3 of which are banging dj tools aimed directly towards all dancers that enjoy breakdowns and hands-in-the-air beats. In addition, to the dope deejay dancer tools offered in this bangin package, there is an out of this world top secret exclusive remix which will be revealed during our House of Soul Show with SammyRock & Dj Housecat(la gata de fuego) which airs Mondays from 9am – 2pm est at Cyberjamz Radio.
We can't wait to drop "Reach E.P" – Dj WMJ in just a few weeks January 2017.
complete release info coming soon.
Keep your ear to the Ground – Cyberjamz Records.
William Dj Wm J Curtis ,Has been Djing in Baltimore and surrounding areas for the past 33 years.. Dj Wm J was a resident Dj inside The Baltimore Oak Tree also played at venues such as Volcanos , Foxes Den, and Shake & Bake to name a few. Dj Wm j is now strickly a mobile Dj with hopes of playing in different countries such as ,Japan, Spain, Germany and South Africa. Though Dj Wm J is a well rounded Dj He's adapted a strong passion for HOUSE MUSIC . William Dj Wm J Curtis grew up listening to people such as Dj Spen , Thommy Davis, Teddy Douglas and Wayne Davis just to name a few but , the one Dj that made a huge impact on his life and had a lot to do with him becoming a House Dj was Dj John Johnson .
John johnson put the fire under his feet to wanna learn more and more about the House Music genre.. Later on Dj Wm J was introduced to people such as Dj Sw3 and Dj Pistol Pete who also played a heavy role in Dj Wm J becoming a Producer . Pistol Pete stayed in his ear to help fine tune what Pete thought was a creative beast trying to get unleashed and with Dj Sw3 being brutally honest about Dj Wm Js work helped him to try harder to become better reaching for the Best … Thanks to Dj John Johnson, Dj Sw3 , And Dj Pistol Pete I am who i am today.
for bookings ;www.djwmj@yahoo.com or www.djwmj2010@gmail.com
links ; www.youtube.com/channel/ UCH1SZzt-Hsi29D6h2iAU7g