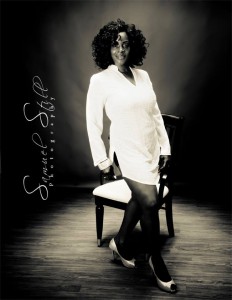 Cyberjamz Records own Vanessa Smith is on a nice roll with her latest release "Storms" with mixes by Dj Pistol Pete & Dj Eddie-Ed which can be purchased at http://bit.ly/1RHTiIk She does not stop there as Storms gets a wonderful interpretation by the hot Shino Blackk coming soon to Cyberjamz Records Jan 2016.
Vanessa Smith "Storms" (The Shino Blackk Story)(CyberJamz Records Promo)
Just a short while ago, CyberJamz Records unleashed "Storms" by Vanessa Smith, a marvelous soul infused gem produced and mixed by 'DJ Pistol Pete' Sierra (the release also includes exquisite remixes by Eddie Ed). Now the label is about to release superb interpretations by Shino Blackk who gives the song a mesmerizing unadulterated deep underground-esque feel guaranteed to cast a spell on you through the spell binding rhythms, glorious keys, entrancing chords and Vanessa Smith gorgeous passionate vocals.
Reviewed by Mike Michael Fossati
http://spritofhouse.com
Bio & Info
Born October 16th, 1971, originally from Bronx, New York Singer/Song Writer Vanessa Smith created Second Chance on Love and later, Heaven in 2014.
Raised to love and appreciate African song and dance Vanessa attended LaRoche Bay dance school in Harlem New York and her musical ear became acclimated to a very soulful cadence and musical pace, and rhythm. Also inspired by singing groups like Rose Royce and Big Band Music like Savahnna Band and Salsoul Records works, I love music composition and raw soul music. Very early exposure from my parents to vocalist such as Candy Staton, Loleatta Holloway with Hit and Run also Teddy Pendergrass left an impression that singing from the soul was where the magic of the song lived. Donna Summer was a very sexual voice to me that influence my feminine music style side.
Early exposure to African percussion rhythms and dance further instilled a sense of soul that influence my sound preference today. Even though I currently do not play an instrument My Bronx accent and Soulfulness add to the flavor of my spoken word and sung lyric.
I have had the opportunity to record with Producer Joseph Joe Flame of D Sharp Records. Second Chance on Love was a product of my lived experience and years of Joes Musical and Production experience. Second Chance on Love was released by D# Sharp Records in January 2014.
The second release, Heaven, was written for and inspired by the need to show love to others. Heaven was released by Face the Bass records in September 2014.
Vamessa Smith
Facebook and booking info
https://www.facebook.com/TheNessaSmith1
Cyberjamz Records