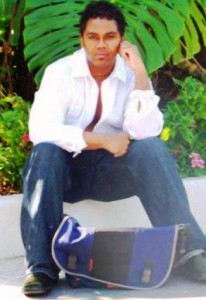 Cyberjamz/Toupee Records is proud,excited and welcome back recording artist Dovie Coate' back on our label.After a long hiatus this fantastic vocalist is back is on the scene and has been hard at work in the studio live and direct from Chicago.Also involved in background vocals and production work is as another great Cyberjamz Records recording artist & producer Harold Brandon ( IN BLUEBLACKNESS).
These guys have a lovely collection of vocal pieces with quality lyrics and music coming very soon with hit pieces like "Luna En Red" , "Imagination" , "No Prisoners" , "The eyes don't Lie" , "Skin Deep" and many more!
Up first for Dovie Cote' is an exceptional project he's been working on entitled "Luna En Red" which consist of a fantastic vocal piece that will give you goosebumps when dropped in the set or perfect for dancers and those that love vocal pieces as I do.The follow up "Luna in Red" is one for the books. This extraordinary piece delivers proper quality vocals and production work by Harold Brandon ( In BlueBlackness).In addition the Mastering of these tracks is simply superb as one of Chicago's best Glenn Underground of Gorilla Oven Mastering lend us a hand in the studio.
Such a winning talent makes you feel they have won a big jackpot at 666CASINO easily. These guys together create magic in both these tracks.
"Luna En Red"
Produced By Darren "Dj Quad" Brandon IN BLUEBLACKNESS
Vocals: Dovie Cote' & Harold Brandon
DHB Music, BULL BABY Music, ASCAP
This E.P and more are coming very very soon 2016 to Cyberjamz Records.
Dovie Cote'
Growing up, Soul and Jazz music seemed to be inescapable for Dovie Cote'. His parents and older siblings were always playing the sounds of Billie Holiday, Dinah Washington, Duke Ellington, James Brown and Motown around the house, all of which would inevitably become the soundtrack to what later shaped his musical career.
Born and raised on the Southside of Chicago, Dovie remembers singing around the house to the latest songs, rearranging them in his own way, and beating on oatmeal and grit boxes to keep timing. One day his sister bought him a vintage keyboard from a thrift store and as early on as 13 years old, music would become his passion.
In 1991 he met Black Ice Music Production—they were signed to MCA/Black Market Records—a company that specialized in deep house dance music. That same year Dovie released his first 12inch single "Feel Love" through Black Ice on Large Records. Since then, he's never looked back and has released numerous other songs on labels including Strictly Rhythm, Smooth Agent, Strictly Jazz Unit, CyberJamz Records, and several other dance music labels.
Currently, Dovie is adding the final touches to his latest project—slated to be released summer 2016—which is produced, arranged and performed by him.
more release info TBA.
label contact
sammyRock@mail.com