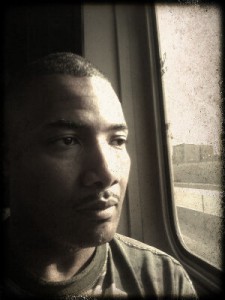 Cyberjamz Records Spotlight: Recording artist Harold Brandon (IN BLUEBLACKNESS).
This is a man of many names,faces,toupee's and talents as well as the original story behind the name IN BLUEBLACKNESS as you will read in his bio.Harold Brandon went from a music programmer to over night sensation in Chi-Town U.S.A. and as the story goes, "there is a great story behind every artist".
If you haven't picked up his latest release "Your Pain" featuring himself on vocals & mixes with added talents by Tayo Wink,Dj Buzzard,hWah & NeighbourboySA.
We are glad to have him explain it to us in this post.
The Sotry of "Harold Brandon"
(IN BLUEBLACKNESS)
"The late James "Jimmy-Mac" Conway is responsible for Harold's unique singing style", says Harold in laughter. Darren "Harold" Brandon grew up on the south side of Chicago listening to all kinds of music and vocal textures, thus getting his interest in harmonizing with instrumentals and songs at the young ages of 5 to 10. He comes from a family of musicians, singers, and performers, (his mom had a wonderful voice, sounding just like Dionne Warrick). At age 11, he would hurry home from school to listen to the latest r&b,/funk records, and his favorite record turned out to be a lesser known song by the Jacksons called "Do Watcha Want". While singing to this one afternoon, little did he know that his first cousin's dad, "Jimmy-Mack", was listening to him sing the harmonies on this record and would wait till little Harold would get home from school and make Harold rehearse with him all the background harmonies of "Harold Melvin & the Blue Notes", the "Dells", and all of the "O-jays" records for hours on in. Not knowing this would prove useful to Harold later in life, his Columbia college teacher told him, "Mr. Brandon, it's is amazing that you can hear and hum and sing in perfect pitch!". Later in the years of house music, Harold honed his skills as a background singer and volunteered his talents wherever he could on many songs of artists and other producers in the industry and in many studio sessions.
In 1992, He would go on to be part of a dance vocal duo called "Club Ice" (the late Sherman Rodgers, Darren Harold Brandon), with a song called "Manhassett", to come out on the major label called "BlackMarket-MCA". He later joined the production of "Foxes & Hounds" studios in Chicago, becoming the background vocals for the wonderful "High Priestess of Songs" the beautiful and talented "Miss Nature Love!". He did a record with a label called "Distant Music", as a test project, using the artist pseudonym "Knu je" singing lead for the first time, writing his first vocal song called "Seeds Of Life", which received rave reviews for "Dennis Ferrer's" remix. Harold would later join forces with two other producers, Dj Joe Glover, and Pierre "P-Levers" Raymond, to form the world's famous "IN BLUEBLACKNESS" Productions. Harold suggested using the IN BLUEBLACKNESS as follow title after each artist or dj/producer names whom may be with the production, promoting the artist/dj/producer's name first. Harold now wears many hats for his production label, "4tha3rdtime", out of Chicago, and is now working and doing his own songs on the label, as well as working with the legendary vocalist/producer "Dovie Cote".
"I thank Jehovah God for allowing me to work with these three wonderful talented friends of mine, Sherman Rodgers, Miss Nature Love, and Dovie Cotie' and them having the fierceness to perform lead vocals on songs live "on-the-spot", and in the studio, teaching me how to do this, which encouraged me to go ahead and sing lead myself", says Harold. Of all the many types of vocalists in the indy, Chicago's dj "Jamie 3:26", is credited with naming Harold the male "Sade" of house music, & the "Soul Penguin".
Harold recently released a song on the world famous house music radio station and label, "Cyberjamz", as an experiment, called "Your Pain". Unbeknownst to him, the label owner, dj "SammyRock", would have an artist contest for all artist on his label, with Harold winning and becoming the artist of the year along with producer/remixer of the year "Tayo Wink". We're not surprised that Harold has more in the works for the masses, and as we can see, he's definitely earning his chops and breaking out new songs and production as we speak, and in his famous words;
Thank you, and as always, "ENJOY!"
Harold Brandon
The Music
Your Pain – Harold Brandon (IN BLUEBLACKNESS) The Original Story (Part One) out now
http://bit.ly/1W1Ixqy
The Story Retold (Part 2 Remixes) – Mixes by Tayo Wink,Dj Buzzard and hWah from Norway
http://bit.ly/1IkqrJT or http://bit.ly/1nvrvSs
The South African End Of Story Remixes Part 3 – Mixes by NeighbourboySA . Tayo Wink & Dj Buzzard – http://bit.ly/1nXPOsv
Artist and Dj Bookings
midee500@hotmail.com">midee500@hotmail.com">midee500@hotmail.com
sammyrock@mail.com
Keep your Ear to the Ground – Cyberjamz/Toupee Records 2016