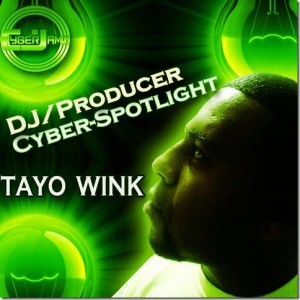 This weeks Cyber-producer in the Spotlight pick goes to our very own Dj/Music producer,remixer and artist  Tayo Wink.
Tayo has been a loyal,genuine friend ,gifted music producer and official artist and producer for our label and right out out of control ! He has well over 95 releases under his belt (most out on Cyberjamz Records),and has several other projects out on GentalSoul Recordings(South Africa) and ManMachine Music Productions LLC.
Tayo Wink is also a music programmer that can throw down with the best of them out at any club or event and has blessed us a few times with several banging mixes aired at Cyberjamz Internet Radio Headquarterz !  So,if you didn't know,well now you know ! Tayo Wink is here to steal the show !
We at Cyberjamz Records are proud to continue to feature Tayo Wink on our label.
Sammy Rock
C.E.O Cyberjamz Radio/Records
Click here for complete Tayo Wink discography:
http://traxsource.com/search/tracks?term=Tayo+Wink&ema=43864
Bio and Info:
Tayo Wink has been part of the dynamic Cyberjamz Records production team for 5 years. Hailing from East Orange, New Jersey, he has that superb classic, soulful, underground House Music sound that is native to New Jersey, combined with the modern electronic digital sound of today's House Music. Now residing in Houston, Texas,
Tayo has managed to fuse together all influences of his past from such great DJ's and producers such as, Louie Vega and Kenny "Dope" Gonzales (Masters At Work), Darryl James, Tony Humphries, Timmy Regisford, and Tony Touch (Tony Toca), to the modern EDM producers like, Kaskade, Adam K. & Soha, Deadmau5, Full Intention, & Freemasons. Tayo Wink's signature sound is a result of his drum programming, and arrangement. "I believe in producing quality music from the soul. I need to feel my music. It's my oxygen. It's the reason I exist!" Tayo Wink believes in studying the past and working it into the future. "The only way to move forward, is to keep an open mind. Embrace the future, but do not forget the past." Tayo Wink is sure to be around for a long time to come. We will continue to hear from this remarkable artist.
Tayo Wink
Soundcloud Page:
https://soundcloud.com/tayowink
Facebook:
https://www.facebook.com/tayo.wink
Booking and producer info: