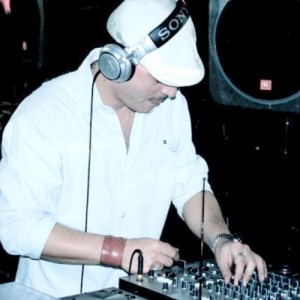 Cyberamz is proud to feature Pako Di Rocco – Mian,Italy as our spotlight Dj,producer and artist.Pako Di Rocco has been sizzling the dance floors and producing some amazing pieces out on Cyberjamz Records,Tony Records and more with his long-time partner Roby Mass also out of Italy.His latest podcast fall nothing short of remarkable !Pako Di Rocco will be in New York from July 5 to August 9 2014. Keep your ear to the ground for event infomation.
Bio:
Dj Pako Di Rocco was born in Naples October 4, 1976.
Since 1989 become a frequent visitor of the club Underground Naples and Italy: Hype (Caserta) Lemon Lights (Naples) Cube (Naples), Peter Pan, Titilla, Echoes, Club 99 (Riccione) Red Zone (Perugia) and other yet.
Since 1990 he began his passion for DJ, began playing in "One Night" and the first of the Club, Center – East Naples: In the following years he performed in the party of Antonio Esposito (My Club, Angel' s of Love, House Club , Noy you) and Tina Lepre (Angel' s of Love, Tina' s Bar, Arte Dinamika) and other situations in the Salerno.
For many years Pako and his faithful friends create a group: the "United Boys" and organizes "one night and after hours in secret locations (villas, beaches etc …).
Known and respected by Dj's of the old Neapolitan school: "Lello Romano, Roby Maas, Junior White and many more.
For a few 'years spreads her experiences visiting places other than where he grew up, and with the bag of discs in the shoulder, stubborn and faithful in God is able to leave the country.
During the years brought his sound in clubs in Italy, Spain, Greece and experience d 'overseas in Los Angeles in 2003 and New York in 2014.
Is inspired by artists such as David Mancuso, Larry Levan, Tee Scott, Tony Humphries, Frankie Knuckles, Dave Morales, Boyd Jarvis, Chez Damier & Ron Trent, Larry Heard, Ron Hardy, Lil Louis, Louie Vega, Kenny Dope, Todd Terry, Glenn Underground, Kerri Chandler, Jovonn, Victor Simonelli.
Those who know him well personally consider him a prophet!
In his life has involved thousands of people worldwide at House Music ………..
His dedication to music is constant and always looking for grooves and sounds very refined svariando from Disco to Deep Underground without exceeding the trivial but often suggesting sounds very rare and sought after.
Some of his productions have been proposed by DJ's Legendary Americans in their Live Set and Radio Show as Tony Humphries, Victor Simonelli etc …
Its Internet Radio Show mixes are broadcast along with the best artists of the Dance world.
Pako Di Rocco after he bought the sympathy and respect of many artists of the dance world, is working on several record productions coming to get out on the historic label of New Jersey "New Generation Records" with his partner and great friend Roby Maas with a series projects of which there are some versions of Big Moses and Tony Jesus Sierra. In 2013 known projects on Cyberjamz friend and brother Sammy Rock, Your Funk ep and other project Spirit Work Ep , later released a remix for the song "There for you" of his dear friends of Junior White & Noelle Barbera on Soundman on Wax Records, and other remixes again for Rod Winston and Barbara Douglas ,but first of all these projects is able to fulfill a dream, to have a contract and subsequent releases through Legend and a great mentor for Pako , Mr Tony Humphries, allowing him to publish two tracks in 'Miami Uncuts album in 2013, Tony Trax and Miami Uncuts 2014 Label on Tony Records where there will be new projects signed Pako Di Rocco, and Roby Maas.
In recent times has been to NY where he performs the after party at the Lincoln Park in NJ with DjPunch and Dj Sammy Rock.
In Naples, his city, continues to evolve the culture of music House proposing his sets live a little 'with all the experts with whom there is now an estimate and affection.
Info Booking: p.dirocco1976@libero.it
http://facebook.com/pako.dirocco
http://soundcloud.com/djpakodirocco
http://www.traxsource.com/title/212951/miami-uncuts-2013
http://www.traxsource.com/title/185953/spread-love-incl-big-moses-remix
http://www.traxsource.com/title/155561/origins-ep
http://www.traxsource.com/search?term=Pako+Dj+Rocco
http://www.traxsource.com/artist/87986/pako-di-rocco