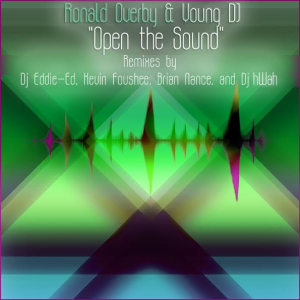 Open the Sound E.P (Ronald Overby & Youngdj)- Mixes by Kevin Foushee,hWah,Dj Eddie-Ed & Brian Nance
Open The Sound E.P – Ronald Overby & Young dj (hWah,Dj Eddie-Ed,Kevin Foushee & Brian Nance)
http://bit.ly/2k8Sk0c
What we have here is a serious collaboration effort by Ronald Overby & Youngdj by bringing together a few of our talented producers together from both Cyberjamz & Toupee Records and feature them in one fantastic E.P. All the mixes in this package are special and unique to fit each talent interpretation of "Open the Sound".The release jumps off with Ronald Overby & Youngdj "Open the Sound Mix" which is an afro chant ride with soulful spoken-word pieces throughout the Mix. Next up and crafted perfectly by Kevin Foushee is his "Life Line" Remix which offers a banging afro-latin flavor mix for the dance floor.Included in this magnificent E.P is a dope Jersey flavor style remix with a touch of afro by the hot Dj Eddie-Ed.His "Afro Groove Mix" is where is at which many dancers will feel motivated by the spoken-word and chantss.It's certainly a groove to dance to all night long.The musical journey continues as hWah's "Stellar Disco Jazz Mix" is absoutley beautiful and is one of my favorite mixes off this package(not to take away from the other banging mixes) but this Jazz filled joint with deep soulful elements,slowed down vocals is my kind of piece,this is such a gem. Finally we have a mix that only Brian Nance can concot, a "Deep Marimba Vibez" is exactly what is presented here in this Remix and what a ride it is !
I will tell you lovers of music and deejay's that collect our music. If you are going to purchase this E.P.I highly encourage to pick up this entire release because all the mixes are so different and will fix any type set you throw down.We hope you find this package as dope as I did.
coming end of Feb 2017 on Toupee Records.
Tracklist"
1)Ronald Overby & Youngdj "Open the Sound Mix" (6:50)
2)hWah's "Stellar Disco Jazz Mix" (8:00)
3)Dj Eddie-Ed "Afro Groove Mix" (7:36)
4)Kevin Foushee "Life Line" Remix (8:31)
5)Brian Nance "Deep Marimba Vibez" (6:44)
produced by Ronald Overby & Youngdj
Additional production by hWah,Edward Ward ,Kevin Foushee & Brian Nance.
Cover art: Garnetjade info: garnetjade@gmail.com
Artist/Producer info:
Ronald Overby monsterfishkeeper3@gmail.com
Håvard Kvangarsnes (hWah) djhwah@gmail.com
Dj Eddie-Ed – numusicpro@aol.com
Facebook & Contact:
Brian Nance https://www.facebook.com/brian.nance.98
Kev Foushee Djkevfoushee@yahoo.com
Label A&R DjHousecat(la gata de fuego)
contacthousecat@gmail.com
Keep your ear to the Ground – Toupee Records 2017.