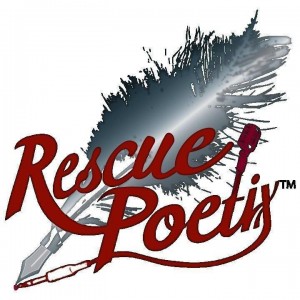 Growing up in Paterson NJ, born with a pen in her hand, house beat of a heartbeat and a
poetic rhythm in her spirit, RescuePoetix™ found her performance voice at an underground Open Mic in Jersey City in 2006, where she began by getting involved in the promotion, artist scheduling and organizing of weekly events.
RescuePoetix™ has been fortunate and honored to perform in New York, New Jersey, Miami and Philadelphia with a variety of talented Spoken Word artists in such venues as: Louder Arts (NYC), Capicu Poetry & Cultural Showcase (E Harlem, Brooklyn), Poetry in Pink 2009, 2010, 2011 (NYC, Harlem), CyberSlamm at Winter Music Conference Miami 2012, and CyberSlamm Philadelphia 2012 in partnership with Global Influences.
RescuePoetix™ founded "Just Add Sound", a monthly open mic, in 2009, in Jersey City, where she currently resides. RescuePoetix™ has also founded "JC Opens Up the Mic", a collaboration of participating open mics/poetry venues throughout Jersey City.
Combining her love of House and Spoken Word, RescuePoetix™ recently founded "RescuePoetix™ and co-found SpokenMovement™ with partner Nunu Rox™, under which several budding projects, including recording Spoken Word to music, fall under.
"Shadow Dancer©" was released July 2011, a JoeFlame Production, on D# Sharp Records. This was the next step in the realization of a long built upon dream of recording Spoken Word to Music.
RescuePoetix™ continues to realize another dream: Writing to touch the masses. She has had the opportunity to be freelance writer for such sites as, MediaServicesNYC, FunktionRadio and 1200Dreams. Articles range from party reviews to interviews, from bios to non-fiction pieces.
A deep love for House Music also led RescuePoetix™ into promotions for House Music Events. Given the opportunity by Open Bar Music/Media Services NYC/The Joint, RescuePoetix™ was fortunate to be part of the foundation that makes I'll House You! (NYC) and Heavy! the living, breathing successes that they are.
Recent projects include Resist© (February 2012) and Destiny© (May 2012) released on Cyberjamz Records, under the guidance of Sammy Rock, with a variety of mixes available by an amazingly talented group of producers, which include DJ Soundscience, DJ Eddie-Ed, Sal Negro, Tayo Wink and DJ Buzzard.
As an artist with Cyberjamz Records, this has also opened doors to delving deeper into House Music through promotion of daily live shows that span the globe, promotion of music through new release promotion and Traxsource Top 10 and, under the mentorship of Sammy Rock, the intricate workings of sharing music with the masses on a regular basis.
RescuePoetix™ lives by the belief that it is critical to build strong rather than fast and that the foundation of all great things takes time to get it right.
The growth isn't finished. It's only just begun.
Facebook & Twitter
RescuePoetix
Facebook
https://www.facebook.com/SpokenMovement
Email:
Websites: