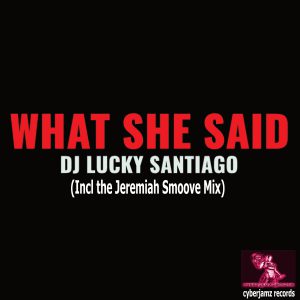 OMFGOD Track Alert! Cyberjamz Records
Release Artist: Dj Lucky Santiago
Release Title: What She Said
Description: Dj Lucky Santiago is on a serious musical mission in 2021 and this latest offering entitled What she said of which I completely understand that what she said is to get on the dancefloor and jam with these mixes. Offered are hot mixes by both Dj Lucky Santiago and Jeremiah Smoove respectively. All four mixes are banging!!
The music selectors and dancers alike are going to love this when dropped in a set. This release is right on time for the Spring and Summer as we prepare ourselves for what we hope are lifted restrictions for our park events as I predict this release package is gonna light that fire under your ass!
produced and jammed up by Ab Shabazz (Dj Lucky Santiago)
LuckySantiago Music 2021.
Another SOULCAT JOINT 2021.