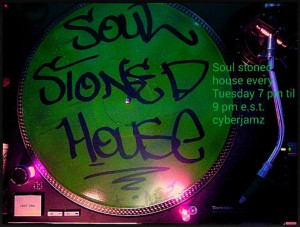 Check out this banging show with w/ Abe Ab Seven Rodriguez Tuesday 7pm – 9pm est at Cyberjamz Internet Radio & C.T.R.N (Cyberjamz Twitch Radio Network) https://www.twitch.tv/cyberjamz_radio
This show is hot and AB7 offers everything from classic house to soulful, this music programmer gets down! What we at Cyberjamz enjoy the most are his track selections and mixes from new music to his own personal edits and remixes, this deejay is worth giving an ear too. If time permits check into Soul Stoned House!
BIO
Abe AB7 Rodriguez started playing music at the Savage Samurai's Clubhouse and at block parties in the early 70s in East Harlem New York City. His first appearance was around circa 1978 at Richies Latin Social Club in Staten Island and in New York City AB has also played music at the neighborhood Stapelton also located in Staten Island. In 1981, AB7 rocked at the Clubs Park Villa and a spot called Tonys from 1981 to about 1984. In addition, AB7 also was the resident deejay at Club Fantasy in Brooklyn USA as well as other venues throughout the city of New York. In 1998 AB7 moved to Tampa Florida and was a frequent guest at CLUB D.N.A. and rocked at 106.1 FM BOOTLEG RADIO, "The BEST OF THE BAY" and in 1999 he also was a regular at community radio 88.5 FM at Our House Radio Show featuring host David Reyero (Mr.Cuanix) & Jask.
Fast forward to the present, Ab7 started his own brand of music entitled STR8OFFDABLOCK ENTERTAINMENT and now is featuring his brand at the award-winning Cyberjamz Internet Radio and has been a music programmer there since 2015. What this music programmer enjoyed the most during the early years to present is his ability to create art through graffiti. AB is also a pioneer graffiti artist and won several awards for his work dating back to 1973.
This is just covering the surface for this extraordinary talented music programmer but we will leave that for another time.
BOOKING INFO:
https://www.facebook.com/AB.seven
Facebook: https://www.facebook.com/AB.seven