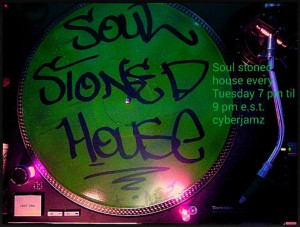 Check out this banging show with w/ Abe Ab Seven Rodriguez Tuesday 7pm – 9pm est at Cyberjamz Internet Radio.
This show is fantastic in that AB7 offers everything from classic house music to new joints,edits and personal remixes he has done through the years.It's worth your ear and time to check in into Soul Stoned House.
BIO
Abe AB7 Rodriguez .started playing music in the savage samurais club house and block partys early 70s east harlem newyork. 1978 first appearance nat and richies latin social club syaten island newyork played the neiborhood stapelton s.i. clubs park villa tonys 1981tru 84 the ones n.y.ny.club fantasy atlantic av bklyn84 tru 85 TAMPA FLORIDA 1998 CLUB D.N.A. 106.1 FM BOOTLEG RADIO BEST OF THE BAY 1999 88.5 FM GUEST DJ. OUR HOUSE SHOW HOST DAVID REYERO AND JASK 2014 RETURN STR8OFFDABLOCK ENTERTAINMENT CYBERJAMZ 2015 A PIONEER GRAFFITI ARTIST SINCE 1973 AND VINYL RECORD COLLECTOR.
BOOKING INFO:
https://www.facebook.com/AB.seven