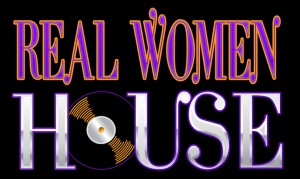 REAL WOMEN HOUSE™
Founded by Catherine Rowell, (DJ Housecat – La Gata de fuego), Real Women House™ is a non-profit organization dedicated to supporting creative efforts through the Arts, literary works, music and dance. Based out of Hyattsville MD, Real Women House™ strives to connect across the global community to educate, support and uplift the entrepreneurial spirit of the artist. Real Women House™ was established on personal beliefs and the beliefs of the House Music Community that engender Love, Peace, Unity and Community. As a creative outlet, Real Women House reflects its founder's personal interest in a variety of forms of Art.
for info contacthousecat@gmail.com
Real Women House T's available now for a limited time
Ladies of House! represent in style with these tanks just as the weather is breaking!. Made for a woman by a woman, so that means no bulky fit, these tanks are cotton with a touch of spandex for a nice fit. These tanks are true to size, available in sizes M-XL, white and black. Payments can be made through paypal,cash app or vermo
Cash App – $housecat81
Vermo – @Catherine-Harris-Rowell
Tanks are 22.50 including shipping and handling.
** Payments are also being accepted through Paypal addy is Jusdefacts@aol.com . When making a payment plz add the sizes you need,color of tee shirt and mailing address or you can send her an email with the info at contactsecat@gmail.com
Thank you for your support!
Dj Housecat (la gata de fuego)