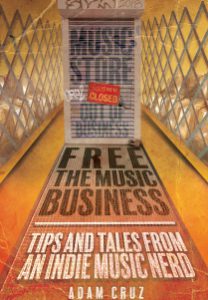 Cyberjamz Radio Book Pick: Free the Music Business: Tips and Tales from an Indie Music Nerd – Adam Cruz
If you a recording artist ,indie label,producer or just need a few tips on about our ever changing music industry,then we at Cyberjamz Radio/Records highly recommend this awesome book written by one of our industry leaders when it comes to music and the in's and out's of the music business.Adam Cruz has led the way in the last few decades and his research on these subjects are spot-on. This fantastic eye-opening book is now available
Paperback | Kindle | Audiobook | Soundtrack
DJ, producer and label head Adam Cruz has published his first book. Order your copy today! In Free the Music Business: Tips and Tales from an Indie Music Nerd, Cruz takes you on a fast-paced journey through the complicated world of streaming music.In his distinctive narrative style, he details the effects that manual interplay has had on royalties and chronicles the diminishing value of music, the rise of streaming services and the changing attitudes of music lovers.Cruz also shares tips and tales from his days of running a widely popular NYC disco label at the turn of the millennium.
Free the Music Business . . . is the culmination of his experience working and recording with some of house music's biggest talents as well as research collected for the Freedom Radio Hour, a music business radio show he produces and co-hosts with longtime collaborator, Eddie Nicholas.
Written by Adam Cruz.
Edited by Amanda Frontany. https://questionsandartists.com
Book cover design by Jose Gonzalez. https://www.behance.net/Gonzalez1972
P.S. Search for and download the FREE app courtesy of Freedom Radio Hour for iPhone and Android users.
Physical and digital copies are available now!
Order now (Paperback):
http://a.co/d/8l6O3mQ
Order now (Kindle Version):
http://a.co/d/7fQIPvD
Audiobook is available now!
Audible:
https://www.audible.com/pd/Free-the-Music-Business-Audiobook/B07M8DPP4T
Amazon:
https://www.amazon.com/dp/B07M98MQT4/ref=cm_sw_r_tw_dp_U_x_id6kCbZT9P216
Bandcamp:
http://tiny.cc/AC_audiobook
Soundtrack is available now!
Apple Music / iTunes
https://itunes.apple.com/us/album/free-the-music-business-tips-tales-from-an-indie-music-nerd/1446202798
Bandcamp
https://mixtapesessions.bandcamp.com/album/soundtrack-free-the-music-business-tips-tales-from-an-indie-music-nerd
Google Play
https://play.google.com/store/music/album/Various_Artists_Free_the_Music_Business_Tips_Tales?id=Buoieans6zp4i2h52cxhp5nxyzi
Juno Download
https://www.junodownload.com/products/free-the-music-business-tips-tales/3989244-02/
Spotify
https://itunes.apple.com/us/album/free-the-music-business-tips-tales-from-an-indie-music-nerd/1446202798