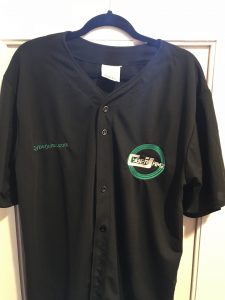 Limited Edition and for a limited time ,we are offering the Cyberjamz baseball jersey – $60 without custom printing and with Dj name printed on the back,tag add $20. So the Jersey along with printed Dj name comes out to $80. We are also offering a matching Cyberjamz baseball cap for $25. When planning to order for a jersey please submit your size, and if you want your name printed on the back, provide details and name and address to ship merchandise.
Jersey details:
The come in black with green lettering, cyberjamz.com and the CJ logo is printed on the front. The back of the jersey can be customized with your name. We must have an order of 12 or more to purchase at this price. An order will be submitted on 5/17. Please send your orders via
Cash App – $housecat81
Vermo – @Catherine-Harris-Rowell
PayPal to houseonthewaterfrontmd@gmail.com
Once we receive the orders back we will coordinate shipping or pick up with you.
Thanks,
SammyRock & Catherine Harris Rowell
http://cyberjamz.com