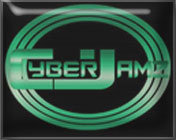 CYBERJAMZ INTERNET RADIO since 2003.
The award winning Cyberjamz Internet Radio (est. in 2003) was founded and is owned by Cyberjamz CEO Sammy Rock aka Soul Oasis. CyberJAMZ Internet Radio has been in the forefront of the dance music community for well over twelve years and proud of that accomplishment. As Cyberjamz continues to celebrate growth they continue to focus on serving the music and dance community by providing the best in music by well-established producers and artists, up and coming producers and artists, programmer who are dedicated to the education and expansion of the Music Scene and everything under the Dance Music genre.
Cyberjamz Internet Radio offers one of the most complete show line-ups that provide an eclectic mix of music from programmers/DJS that touch on every style of music. Music is available on the site 24-hours a day, seven days a week and ranges from live programs to random archived sets which are updated on a daily basis.
Cyberjamz Records leads the way for artists to work with producers on releases that are offered on several digital music sites since 2007, in support of the underground independent artist. Cyberjamz teams up with the sub-labels, Toupee Records (established in 2013) and Toupee owner/CEO, DJ Housecat to continue to bring quality releases by quality producers and artists. For more information on Cyberjamz, Cyberjamz Records,Toupee & deeperSIDE of Cyberjamz,check out our social media platforms, http://traxsource.com , http://junodownload.com and now on Bandcamp at https://cyberjamzrecords.bandcamp.com/
https://cyberjamz.com
Cyberjamz Records on FB https://www.facebook.com/groups/cyberjamzrecords/
Toupee Records on FB https://www.facebook.com/groups/210071055842963/
deeperSIDE of Cyberjamz Recs https://www.facebook.com/groups/deeperSIDEofCyberjamzRecords/
Cyberjamz Music Group Page https://www.facebook.com/groups/cyberjamz/