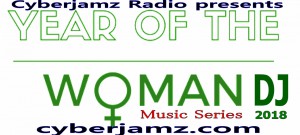 Cyberjamz Radio ,Real Women House™ & Rescue Poetix™ (JAS) presents: Year of the Woman DJ (The Music Series) 2018.
We at the Cyberjamz Radio Headquarters are the leaders in featuring women deejay's as you can see on our current line-up with Dj Housecat(la gata de fuego). Lady Cecilia Birdex Vintage Soul , Celestethedj Alexander .Selectress MizzKae ,Rescue Poetix with "Just add Sound" & new comer Miss Dela.
We have also held quite a few Music Series featuring women deejays in the past and some even had their own shows spanning throughout our fourteen plus year history from Donna Edwards to Lola Rephann , Dj Curly , Minx Womenonwax , Barbara Dhs McCarthy (GG Da Harlem Spinna) ,Ricky X and Mynia to name a few were among those that participated,.So many others were featured in the past and present .I've lost count. Now in 2018 we would like to do this all new "Year of the Woman Music Series".
Ladies this is a Special time for Women and we are proud to announce this Music Series coming very soon featuring the very best talent from across the globe so if you would like to participate in this historical showcase,email sammyrock@mail.com or contacthousecat@gmail.com with a 2 hour set, dj picture and short bio and leave the rest to us.
There is no deadline and the sooner we receive your mixes,the faster we can jump this series off.We at Cyberjamz Radio & listeners from all over the World are looking forward to hearing you express yourself.
Sponsored by House on the Waterfront Weekender™ #hotwmd / Cyberjamz Records , Toupee Records / deeperSIDE of Cyberjamz & Rescue Poetix™ Management
Follow us on instagram
https://www.instagram.com/cyberjamz