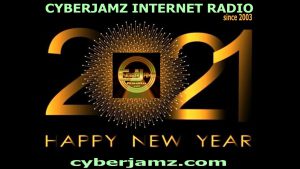 Cyberjamz Radio pres The Final Countdown to 2021.
It's been a rough 2020 year for all of us with what is one of the worst times in our history both emotionally, economically, and musically. We've lost so many of our family and friends to this Coronavirus COVID-19 that some of us are still numb at what we are experiencing with this once in a generation phenomenon. In this coming new year, we hope and pray that this virus corrects itself to the point of getting back to some kind of normalcy, however, I'm afraid it's only the beginning of the end. I believe that until we humble ourselves to nature and the spiritual realms that surround us each and every day, we will remain in this darkness.
2021 is upon us and so let us pray for our family, friends, and those we love around us, for it is the true way toward the light. Also in our upcoming journey to reach the light, we encourage you all to stay connected to music, one of the elements that bring peace, healing, and love. We at Cyberjamz Radio would like to invite you to The Final Countdown to 2021 featuring a few of our music programmers including a set by your's truly SammyRock aka Sol Oasis DjHousecat(La gata de Fuego). It all goes down from 10 am until the wheels fall off this mutha. So if time permits, stop by a minute and share your positive spirit with us, cause jamming together is one of the ways out of this mess.
Keep your ear to the ground for today's musical selectors posted on both Facebook & Twitter. A huge thank you to all of our sponsors, music programmers and YOU! The lovers of music.
C.E.O/Founder SammyRock aka Soul Oasis
VP of Operations Catherine Harris Roweel – DjHousecat(La gata de Fuego)
Cyberjamz Internet Radio (since 2003) – http://cyberjamz.com