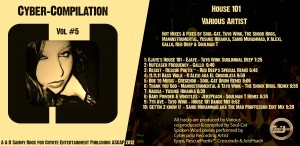 Available now on Traxsource- Cyberjamz Compilation Vol 5 a House 101. Joints from Producers: Soul-Cat, Tayo Wink, Gallo, RedDeep, K'Alexi, Maminstrumental, Yusuke Hiraoka, SoulmanT, Sahib Muhammad, Tier Ra Nichi…. It's a global House thing.
http://www.traxsource.com/index.php?act=show&fc=tpage&cr=titles&cv=190623
Various "Cyberjamz Compilation Vol #5" (Cyberjamz Records CD Promo)
Since the first release back in July 2007, Cyberjamz Records have released nothing but the best in underground house music, and every now and then they bless us with a compilation full of previously unreleased tracks and remixes. The latest offering in the series includes not less than ten tracks, each of them guaranteed to jam-pack floors and make you yearn for more. Soul-Cat, Tayo Wink, The Shock Bros, Maminstrumental, Yusuke Hiraoka, Sahib Muhammad, K'Alexi, Gallo, Red Deep, Soulman T, Crescendo, JerzPeach, Ejaye – they are all featured on this prime package which is highly recommended to any DJ looking to send the floor into a frenzy…
Mike Fossati
Spiritofhouse.com
Cyber-Compiltaion Vol #5
House 101
Various Artist
Hot Mixes & Fixes by Soul-Cat,Tayo Wink,The Shock Bros,Maminstrumental,Yusuke Hiraoka,Sahib Muhammad,K'Alexi,Gallo,Red Deep & Soulman T
1)Ejaye's House 101 – Ejaye – Tayo Wink Subliminal Deep 7:25
2)Nuteaser Frequency – Gallo  6:40
3)Resist – Rescue Poetix – Red Deep's Special Remix 6:48
4)11.11.11 Bass Walk – K'Alexi aka El Chocolata 9:59
5)Ode to Music – Crecendo – Soul-Cat Drum Remix 8:06
6)Thank you God – Maminstrumental & Tayo Wink – The Shock Bros. Remix 8:55
7)Nagisa – Yusuke Hiraoka 6:39
8)Baby Powder & Whistles – JerzPeach – Soulman T Remix 8:24
9)7th Ave – Tayo Wink – House 101 Dance Mix 6:52
10)Gettin 2 know U  – Sahid Muhammad aka The Mad Proffessor Edit Mix 5:20
All tracks are produced by Various
co-produced & compiled by Soul-Cat
Spoken-Word pieces performed Cyberjamz Recording Artist
Ejaye,RescuePoetix™,Crescendo & JerzPeach.
A & R Sammy Rock for Coyote Entertainment Publishing ASCAP 2012