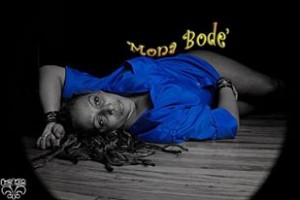 Cyberjamz Records is proud to acknowledge and present to you,one of the most respected and hard working spoken-word artist on our label and in our music industry..Here is the story.

HOUSE MUSIC IS A WAY OF LIFE. IT'S A SPIRITUAL FORMAT FOR THE MIND,TO MAKE THE BODY MOVE. A FORMAT WHERE THERE IS NO VIOLENCE, BUT PEACE BETWEEN THE BODIES THAT DANCE.
Mona Bode.
Biography
Mona Bode has gripped the spoken word movement with a clear mission to motivate and inspire . Spoken word poetry has welded a power of verbal expression of which Mona Bode prides herself as being a vessel, a vessel to through a non-traditional approach use poetry as a therapeutic medium. Mona Bode is an erotic/sensual spoken word poet that has featured at "Freaknasty" Erotic poetry show and SoulSweet Sanctuary open mic and numerous other venues. As a traveling poet, she has stimulated the minds of audiences in various venues in New York City.
Mona Bode' is is the co-founder/owner of record label "ManMachineMusic Productions" http://manmachinemusic.weebly.com/. She has performed/produced numerous house and jazz tracks. Check Mona at http://monabode.bandcamp.com/ to listen to her music and hear her words. She can also be heard on youtube.
contact info-
mona.bode125@gmail.com
Description
One of the founders of Microphone Fiends open mic (http://micfiendspoets.weebly.com/) which was born jan 24th,2010 in the heart of Harlem.
She is the co-founder/owner with colleague Trevor Fox of record label "ManMachine Music Productions" (http://manmachinemusic.weebly.com/). We are currently looking for new artist, poets singers. (mona.bode125@gmail.com)
Mona is the founder/owner of MONABODE'S CREATIONS (www.monabode-creations.com) she makes natural body products for men and women.
She has also featured at freaknasty and soul sweet sanctuary and numerous other venues.
Contact info-
mona.bode125@gmail.com
MONA BODE' HOUSE MUSIC  
 Purchase the Music:
http://moboproductions.weebly.com
Deejay's,Music Producers and Artist/Supporters – Acknowledgements and Thank you's
 I have been in the music Industry for 4yrs now and it amazes me how far I have come from the day Anthony Rier asking me did u want to make a house music track to today with 18 banging house music tracks, a record label, music studio (Im a producer also) with the ability to make music… I need to thank a lot of people that have helped me along the way….Anthony Rier , Johnny Dangerous and Sammy Rock I thank you for believing in Mona Bode and helping my voice to be heard…I need to thank a few dj's & producers:
Trevor Fox.Michael Terzian,Big Osh,D'anthony,Serge Negri,Mikki Afflick,Dr.Thiza,Soulman Tee,Tayowink,Sound Science,Sal Negro,Jonny Montana,Joe Flame,Jay Tee,Drumshift Phenyo,Rob Redford,Pirahnahead\,Justin Hypolite,Shino Blakk,Panther72 and Allen Jackson. Exadoria Records,  Cyberjamz Records, Dsharp Records, Solid ground Recording, ManMacnineMusic Productions, Canvas Music, SoulSunSoul Prod., Third Ear Prod., Whasdat Music, and Bamboo Sounds.
And to those that I may have forgotten to mention…did u see how many tracks i have out 🙂 You are greatly appreciated…and from the bottom of my heart I thank you all for the opportunity to to work with you !
Mona Bode