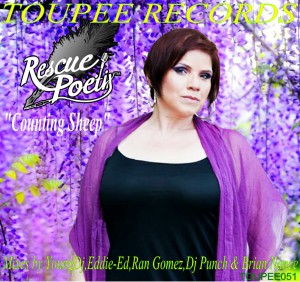 Hot Release Alert: "Counting Sheep" – Rescue Poetix (Mixes by Youngdj,Dj Eddie-Ed, Ran Gómez Plata , Brian Nance & Dj Punch)
The sensual Rescue Poetix returns with this powerful gorgeous piece entitled "Counting Sheep". This piece is profound in the message and delivered perfectly to the music.
Super mixes provided by Moloko Manganyi – Youngdj,who continues to raise eyebrows throughout our music community and this mix defies who he is … a very good afro soul producer !! Next in this package is the Edward Ward – Dj Eddie-Ed Mix,which is another one of those producers that has captured the ears of deejay's and dancers alike,This is a very well produced version and is so much fun to listen and dance to no matter where it's played.In addition ,the pitch change in the middle of the song is a cool surprise as it goes down then gradually builds back up again to it's original bpm.Good stuff !! Ran Gomez out of Mexico delivers a nice soulful house version and compliments the lyrics making this one a quick favorite.If deep house is what you need,then look no further than the eclectic sounds of Brian Nance ,a true gem of a producer who is a few years ahead of his time in production work.This is super dope for those that enjoy something a lil different on the tech side of things without loosing the deepness is best I can describe it and finally we have the banging Dj Punch "Baby Powder Organ Mix", a musical organ percussion filled jam that will make any dancer run straight to the dance floor ! I love this mix here !
coming March 24,2017 – Toupee Records.
Another Super-Cat Catherine Harris Rowell Joint.