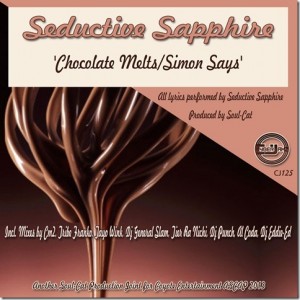 The PHIRE STARTER is at it again…this time with Chocolate Melts/Simon Say's, 2 distinct poems of seduction and love that can only be performed by our very own Seductive Sapphire ! Hot Mixes by Cm2,Dj General Slam,Al Coda,Tribe Franko,Tayo Wink,Tier Ra Nichi,Dj Punch & Dj Don Juan.
A massive package indeed ! coming soon ! – Cyberjamz Records.
**Simon Says is scheduled for release in October 2013.**
CJ124
Chocolate Melts/Simon Says – Seductive Sapphire
(Inc Mixes by Cm2,Tribe Franko,Dj General Slam,Tayo Wink,Al Coda,Dj Punch & Don Juan,and Tier Ra Nichi)
1)Cm2's Original Melt (6:41)
2)Tribe Franko Groove Scene (6:24)
3)Dj General Slam Taken Soul (6:09)
4)Tayo Wink Mr Chocolate Goodbar ReMix (6:30)
5)Al Coda Meldown Version (7:52)
6)Tier Ra Nichi – Up and Away Vox (9:24)
7)Dj Punch & Don Juan Remix (7:50)
All lyrics performed by Sheila Johnson – Seductive Sapphire
copyright BMI 2013.
Produced by Soul-Cat
Artwork: Jorge G.
Credits:
Track #01 & # 07
Mixed and proudced by Cm2 – South Africa
https://www.facebook.com/B.mohapi
Track # 02
Tribe Franko Remix
Produced by: Frank Mabaso
Mixed @: Kultured Music Studios
Twitter: @Tribe_franko
Track # 03
DJ General Slam Remix
Produced by: Katlego Nombewu
Mixed @: Gentle Soul Recordings
Final Mixing: SABC Studios Pro Tools 10
Twitter : @DeejayGeneral
Track #04
Produced,mixed and arranged by: Tayo Wink
for Coyote Entertainment ASCAP 2013.
https://www.facebook.com/tayo.wink
Track #05
Producer: Ororiseng Leketi(Al Coda),
Arranger: Al Coda & Msosti
Studio Name: Al Coda Studios(Brits North West) & ORei Recordings Studios(Evaton,Gauteng)
Track #06
Producer:Tier Ra Nichi
Arranger: Tier Ra Nichi
Studio: New York City,N.Y
https://www.facebook.com/tier.nichi
Track #07
Producers: Dj Punch & Dj Don Juan
Arranger: Dj Punch
Studio: BabyPowder Studios in New Jersey (USA)
https://www.facebook.com/punch.zanzibar
Licensing.producer info & bookings contact:
chanel4665@yahoo.com
contacthousecat@gmail.com
sammyrock@mail.com
Another Soul-Cat Joint – Coyote Entertainment ASCAP 2013.