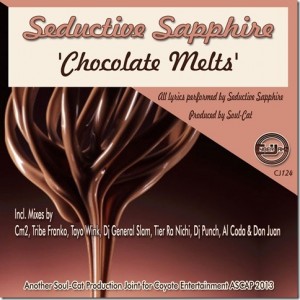 The PHIRE STARTER is at it again…this time with Chocolate Melts/Simon Say's, 2 distinct poems of seduction and love that can only be performed by our very own Seductive Sapphire ! Hot Mixes by Cm2,Dj General Slam,Al Coda,Tribe Franko,Tayo Wink,Tier Ra Nichi,Dj Punch & Dj Don Juan.
A massive package indeed ! out now  – Cyberjamz Records.
Seductive Sapphire "Chocolate melts" (CyberJamz Records CD Promo)
If you're into inspiring and enticing house music, look no further than "Chocolate melts" by Seductive Sapphire – without any doubt, her enchanting spoken word poetry will seduce you. The musical background is provided by the likes of Cm2, DJ General Slam, Al Coda, Tribe Franko, Tayo Wink, Tier Ra Nichi and DJ Punch & DJ Don Juan – it is next to impossible to pick a favorite version from this stellar selection of diversified truly one-of-a-kind deep and soulful interpretations…
Review by Mike Fossati of Spirit of House.com
OUT NOW !!
http://traxsource.com/title/232888/chocolate-melts
**Simon Says is scheduled for release in October 2013.**
Cat # CJ125
Chocolate Melts – Seductive Sapphire
Target Release Date July 12,2013
(Inc Mixes by Cm2,Tribe Franko,Dj General Slam,Tayo Wink,Al Coda,Dj Punch & Don Juan,and Tier Ra Nichi)
1)Cm2's Original Melt (6:41)
2)Tribe Franko Groove Scene (6:24)
3)Dj General Slam Taken Soul (6:09)
4)Tayo Wink Mr Chocolate Goodbar ReMix (6:30)
5)Al Coda Meldown Version (7:52)
6)Tier Ra Nichi – Up and Away Vox (9:24)
7)Dj Punch & Don Juan Remix (7:50)
All lyrics performed by Sheila Johnson – Seductive Sapphire
copyright BMI 2013.
Produced by Soul-Cat
Artwork: Jorge G.
Credits:
Track #01 & # 07
Mixed and proudced by Cm2 – South Africa
Track # 02
Tribe Franko Remix
Produced by: Frank Mabaso
Mixed @: Kultured Music Studios
Twitter: @Tribe_franko
Track # 03
DJ General Slam Remix
Produced by: Katlego Nombewu
Mixed @: Gentle Soul Recordings
Final Mixing: SABC Studios Pro Tools 10
Twitter : @DeejayGeneral
Track #04
Produced,mixed and arranged by: Tayo Wink
for Coyote Entertainment ASCAP 2013.
Track #05
Producer: Ororiseng Leketi(Al Coda),
Arranger: Al Coda & Msosti
Studio Name: Al Coda Studios(Brits North West) & ORei Recordings Studios(Evaton,Gauteng)
Track #06
Producer:Tier Ra Nichi
Arranger: Tier Ra Nichi
Studio: New York City,N.Y
Track #07
Producers: Dj Punch & Dj Don Juan
Arranger: Dj Punch
Studio: BabyPowder Studios in New Jersey (USA)
Licensing.producer info & bookings contact:
chanel4665@yahoo.com
contacthousecat@gmail.com
sammyrock@mail.com
Another Soul Oasis  for  Coyote Entertainment ASCAP 2013.