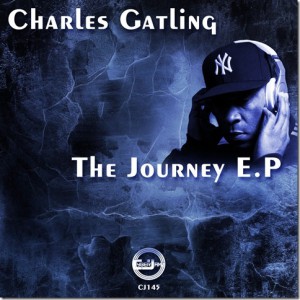 Cat # CJ146
Title: The Journey E.P
Artist: Charles Gatling
Label: Cyberjamz Records
Target Release Date 01/09//2014
Cyberjamz Records is proud to welcome not only a friend of mine but a talented music producer and music programmer to our line-up of exceptional music makers to our label.Charles Gatling has been in the game for a time and now after a long hiatus he returns with this deep & dark Detroit influenced gem with all the right elements for those late night hours on the dance floor.
This drum thumpin' pumpin' deep ass E.P kicks off with the mesmerizing piece "Lifted" which we are sure you will find perfect to throw in your set at any time.The lush vibes and keys are just out of this world and the bass is in your face ! Up next is one of my favorite cuts off this E.P entitled "Along the Trussels" a deep house musical journey which your dancers will enjoy and as a deejay music programmer,you can ride vocal pieces and accapella's for days ! "For the Land" is yet another cut off this already banging E.P. A journey beyond your imagination and deep to the core,is one we recommend for dance circles and the like.The next jam off this deep house E.P is "In the Distance", a spiritual ride with obscure chords,dark drum kicks and heavy bass-line is just remarkable.Finally when you think it's all over for this fantastic package,we have the spooky Detroit influenced "Blacklight Effect",a very obscure late night joint full of effects to mess with your senses.A true gem on it's own.
This is a complete deep house package that we need in our books to represent that sound that we still love and enjoy,also this  package does not fall short of accomplishing that mission in keeping Detroit Deep House Music  alive !
All tracks Written,produced and mixed by Charles Gatling and Hamza Abdul Qawwee
Charlie Gat Music – BMI 2013
Cover by JorgeG for JorgeG Graphix & Coyote Entertainment 2014
Licencing and info contact Charles Gatling
Facebook: https://www.facebook.com/charles.gatling
Label A&R – Sammy Rock
"Keep your ear to the Ground"  – Cyberjamz Records 2015