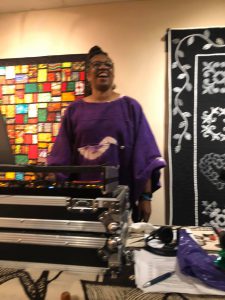 Since many are celebrating Woman's Month, then today I would like to focus my attention and acknowledge not only a friend and partner but one heck of a genuine music programmer and all-around deejay, Miss DjHousecat(la gata de Fuego).
*The short version
I met this wonderful person over seven+ years ago when she had asked me for a copy of "We Fall Down", a vinyl piece she saw on one of my playlists and I noticed that she was also a deejay. So I went and asked her if she could submit a set for our Cyberjamz Radio Slam Music Series and she did send in one helluva of a set. At that time I was doing the entire show on Mondays for the past 12 years or so and I was looking for someone to do half the set and then I choose HER. The rest is now history and during her time with us, she has accomplished quite a few things.
Catherine Harris Rowell is not only an exceptional music programmer but also the V.P of Operations at CJ, Founder of Real Women House™, Founder of #HOTWMD (House on the Waterfront Weekender)™, A&R of Toupee Records & member of our NuBang Clan Collective family. Cat is also on her way to accomplishing a few other things of which will be announced very soon. Oh, and have I mentioned that she is hot Deejay in the mix? She is one of the best I've heard in creating "moods" by jamming downtempo, Neo-Soul, Jazz and incorporates other genres within her sets that make her stand out among a few other women programmers. These are just a few things that others seem to miss or do not acknowledge about our Housecat (la gata de Fuego) (THE CAT OF FIYA) for those that need a translation. What also makes her stand out for one is how humble she is, her smile when she plays music, and the joy she brings to dancers which makes Cat, to me, one of the most genuine people that has ever come across my life. I owe her much gratitude for being there for me at moments I wanted to quit or step away from music.
She is truly a diamond in the ruff.