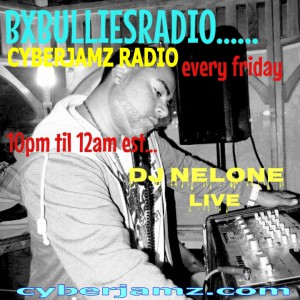 welcome Nelson Maldonado aka Dj Nelone to our Friday Night line up at Cyberjamz Radio.
Showtime 10pm – 12 am esthttps://cyberjamz.com and C.T.R.N (Cyberjamz Twitch Radio Network https://www.twitch.tv/cyberjamz_radio
Bio.
I've been djing for over 30 yrs and grew up listening to Tony Humphries on 98.7.kissFM in New York City. I became inspired after listening to quite a few music deejays and that is when I made a decision to play music. As the years went by, Dj Louie Vega became my biggest influence, and that is when I became the music programmer that I am today. I've also spun at various spots from Club New York to a nice spot called Club Exit. Besides that, I was also doing local mobile parties from Manhattan to the Bronx. I'm also well known for what we called Uptown's best Underground Party for twenty-plus years at a hot dance spot called Secret Garden. Presently, I'm currently Vice President of my brand Bronxbullies Entertainment which is responsible for bringing this great music to the Bronx located in New York City.