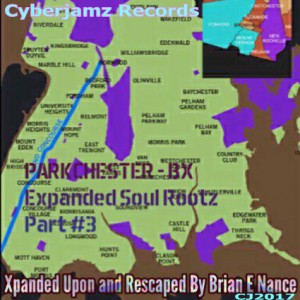 Cat#CJ207
Release: BX Expanded Soul Rootz Part #3
Artist: Brian Nance
Label: Cyberjamz Records
Target Release date Nov 17,2017
What we have here is yet another explosive deep tech EP dedicated to the Boogie Down Bronx in NYC.This is part 3 of 4 EP's that reflect several ol skool stomping grounds and locations that we used to hang out and throw apartment parties aka (House Parties).
Music was the factor……… Expanded Soul Rootz are the places we conquered.
Pick up Part One
https://www.traxsource.com/title/753997/parkchester-deep-rootz-e-p
Part Two
https://www.traxsource.com/title/828697/parkchester-soul-rootz-part-2-extended-housing-fam-mixes
All tracks produced by Brian Nance
cover by Brian Nance
Tracklisting:
BX Expanded Soul Rootz Part #3
1. Moshulu 2 YO, Money Earnin, New Roc City – Expanded Territory DuB
2. Edenwald, Gun Hill Eastside, Co-op – Floor Slingerz
3. Fordham Xtra Paeso 2 Afro Caribbean Latin Progressive Deep Tech Vibe
4. Throgg Neckin – Don't Sleep No Sleep
5. Webster Ave 2 3rd Ave Ruff Tuff Bizness
6. Boston Road 2 High Bridge Hell Ticket thru Crotona
7. Mott Haven is No Safe Haven Raw Tech Vibe Unlimite
Licencing, bookings and artist or label info and contact:
sammyrock@mail.com
Brian Nance
benbriscamusic@gmail.com
Facebook:
https://www.facebook.com/brian.nance.98
Cyberjamz Records
https://www.facebook.com/groups/cyberjamzrecords/
Twitter:
https://twitter.com/_cyberJAMZ
Another Coyote Entertainment Joint 2017.